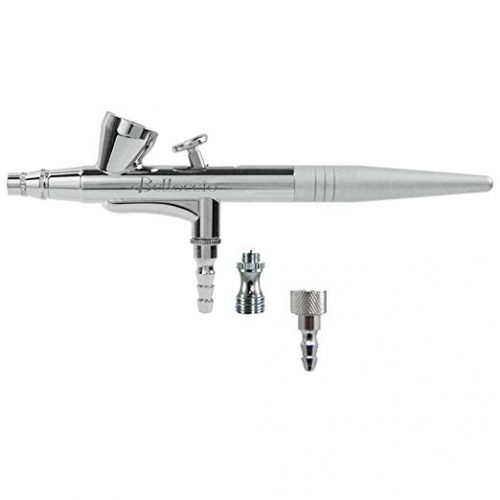 Airbrush comes set-up as single-action with hose barb stem for attaching a rubber surgical hose. It also includes a dual-action air inlet valve stem and hose barb for easy conversion from a single-action to a dual-action airbrush.
How switch the airbrush over to dual-action: Remove the airbrushes hose barb stem and replace it with the included dual-action air inlet valve stem. A standard 1/8″ fitting airbrush hose can be connected to the stem or the rubber surgical air hose can be attached to the 1/8″ fitting hose barb.
Airbrush Features:
Made with high quality precision components that enable this airbrush to work efficiently while providing exceptional atomization and accurate spray control
Multi-purpose usage, as it works well with most paint media and applications. It's commonly used for sunless tanning, cosmetics, temporary tattoos, cake decorating and hobbies
Full 1-Year Warranty; Airbrush rebuild kits available
Airbrush Specifications:
Type: Gravity feed single-action trigger air/fluid control with internal mix fully atomized spray pattern (Includes air inlet valve stem to convert airbrush to dual-action)
Fluid Cup: 1/16 oz
Tip Size: 0.4 mm Needle/Nozzle
Spray Pattern: Hairline to 2.5″ wide
Working Pressure: 5-50 PSI
Airbrushing your makeup is the only way to achieve that perfect flawless natural look seen on Hollywood celebrities and models! It's also the quick and easy way to apply your makeup. The airbrush provides an ultra fine mist that gives you a flawless, soft natural complexion.