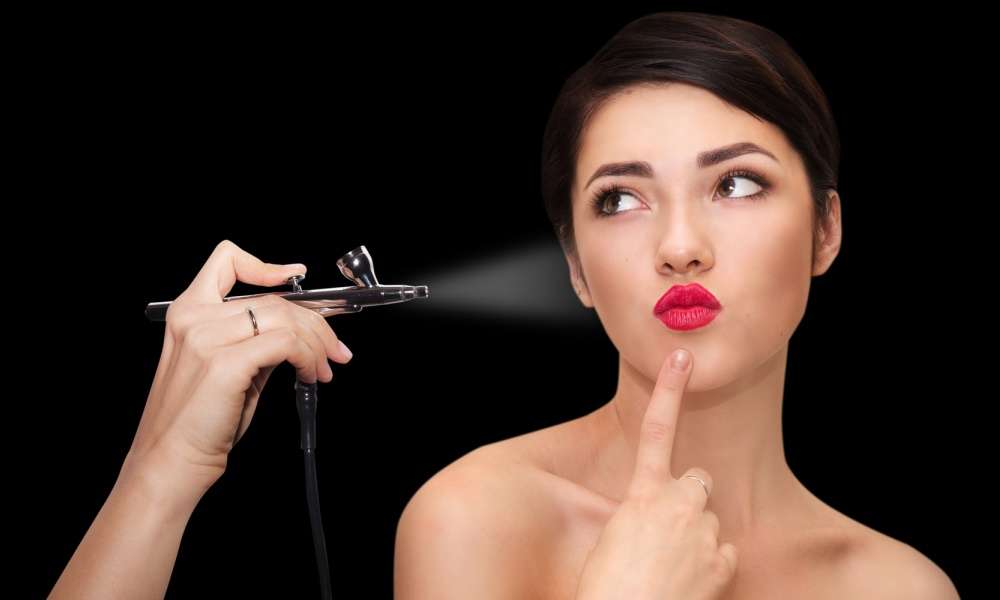 Putting on makeup helps turn a woman or man's face into a flawless canvas. Makeup has been around since time immemorial. It has been used for several reasons. It highlights the face's beauty. It accentuates the best features. It gives the wearer a boost of self-confidence. It also helps to attract others.
With the passing of time, numerous technical developments have given way to better looking makeup. One of the hottest trends now is airbrush makeup. While not new, it has just recently been made accessible to non-celebrities. Now it is a makeup service people can choose aside from the traditional methods.
It offers a lot of benefits and does have its own disadvantages, like the cost of the service itself, but there's one thing that cannot be denied: airbrush makeup produces flawless coverage. It's like your skin but better. Wearers have reported feeling like they don't have any makeup on, which is a great plus for women everywhere.
If you're planning to have airbrush makeup done on yourself or you want to offer it as a part of your business, then it is best that you use the best airbrush makeup out there. Not only will it make your clients happy, but it will make you very happy as well.
How to Choose the Best Airbrush Makeup Kit
This is the ultimate question every makeup artist, professional or amateur, asks. How do you choose the best airbrush makeup? Should you simply look at the advertisements and go for brands that say they are the best? If so, you'd end up buying a whole lot of different brands because each brand will say it is the best.
If you're stuck in a rut about which airbrush makeup to choose, here are a few tips to help you pick out the best.
Pro or Personal Starter Set. Many airbrush makeup companies offer their products in sets. Rather than purchasing the airbrush system (compressor and gun) separately, this includes it in the set as well as the makeup you need to complete a look. Pro starter sets usually offer a whole range of foundation, blush, bronzer, highlighter and a lot more that's able to cover a wide range of skin tones. Personal starter sets are those that carry makeup specifically for one type of skin tone. If you're starting out or plan on using the makeup for yourself, there's no need to buy the professional starter set, no matter how tempting it may be.
Affordable or High End. Your budget is the key thing to consider when choosing between affordable or high end. How much are you willing to allocate for your airbrush needs? Are you comfortable with a hundred dollars? Will it hurt your budget at all to spend 300 dollars or more for a kit? Make sure to read reviews of these products because there are affordable kits that perform comparably well to the more expensive models.
Beginner or Advanced. There are kits offered in the market that are relatively friendly for those that are just starting out with airbrush makeup. There are also kits that many professional will enjoy using and can make much use of. It would be pointless to buy a professional kit when you are starting out because you will need time to practice the technique. On the other hand, professionals may not be satisfied with beginner sets for use on their clients.
What to Look for in the Best Airbrush Makeup Kit
Not all airbrush makeup is designed the same. While one type may be more popular than another, there are still different types to choose from. When you're trying to buy the best airbrush makeup, make sure to look into these important details.
Single action or dual action. There are two types of guns, nozzles, or stylus for airbrushing. The single action is the easiest to learn and perfect for beginners because you simply press the trigger to release pigment. Dual action has a higher learning curve but is preferred by professionals since there is greater control of pigment release. To use a dual action gun, you press down for air and you pull back for makeup.
Gravity vs. siphon feed. There are also two types of feed to the airbrush mechanism. The most popular one is the gravity feed. This is also the preferred one as it uses less pressure and artists have greater control over the spray. The siphon feed is commonly used for spray tan but not recommended for cosmetic application. Greater pressure is required as well.
Compressor PSI. Make sure your choice of compressor meets the standard of PSI for makeup applications. The standard ranges from PSI 30-40. If you plan on using it on the body, the recommended PSI is 70. When you look for a compressor, make sure it has the ability to let you control the pressure.
Foundation and makeup. There are three common types of makeup for airbrush, namely alcohol based, silicone based, and water based. Each type has its own advantages and disadvantages. Alcohol base is not commonly used but is remarkable for its staying power.
It can last up to 5 days. Silicone based is a better alternative to alcohol. It has long staying power and is able to blend impeccably with your skin. Water based foundation and makeup is commonly used and it produces a matte finish. It is recommended because it is gentler to the skin, allows the skin to breathe, and is commonly hypoallergenic.
Bonus items. Each brand offers something different as a bonus to their kit. Some include stencils, cleaners, cleaning kits, more shades of makeup, warranties, and the like. Make sure to choose the one with the most helpful things to offer that you can actually make use of.
Art of Air Professional Airbrush Cosmetic Makeup System
The Art of Air Professional Airbrush Cosmetic Makeup System for Fair to Medium skin is designed for use by both beginners and professionals. It's easy enough to use yet delivers a great performance that professionals will be happy with.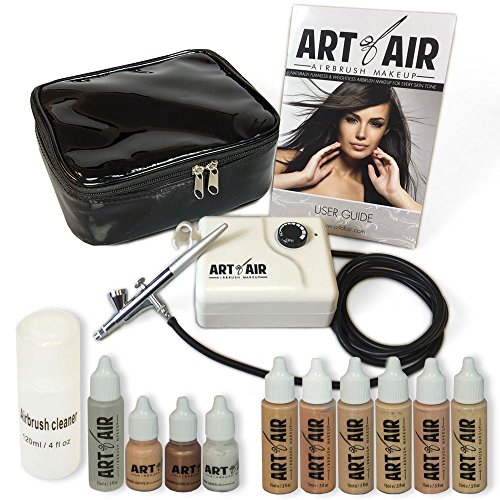 Features
Quiet compressor with fully adjustable air flow
Comes with airbrush, airbrush holder, and 6ft hose
4mm airbrush tip for thin mist
6 bottles of foundation for fair to medium skin
Includes blush, bronzer, and highlighter
Airbrush cleaner included
Deluxe carrying bag included for easy and attractive storage
Advantages
The Art of Air Professional Airbrush Cosmetic Makeup System for Fair to Medium skin offers a lot of advantages for both beginners and professionals. If you're a beginner, you'll be happy to note that the price of this set is pretty affordable.
It's just a little over a hundred dollars and it gives you everything you need to apply flawless, natural looking makeup. It's also easy to use and with a little bit of practice, you'll soon master it.
Professionals will love this kit if they are working on clients with fair to medium skin tones. It's also affordable enough that they can add this to their collection and still get a return on the investment pretty quickly.
The makeup line from Art of Air is water based, so if you have sensitive skin, this will be a good match. Every type of makeup you need for a flawless canvass is already included in the kit, so it saves you a lot of time and money compared to buying each component individually and having to look for makeup compatible to your system.
The cleaner is included so you won't have to worry about clogging your hose and system. If cleaned properly, you'll be able to benefit from this system for a long time.
The compressor itself is pretty impressive. It's quiet and the hose is 6 feet long, giving you enough room to move around. The compressor also features a fully adjustable dial, giving you control of the air flow and the type of look you want to achieve.
Things to be Aware of
If you're just going to be using this for yourself and you're either a fair or medium skin tone, you won't be able to make use of all the foundation in the kit. However, if you are fair, you can use the darker shades to contour. You can also choose to use the lighter foundations as highlighters if you have a medium skin tone.
Cleaning can be tedious since you have to do it after every use. However, the actual cleaning is pretty easy and quick. If done after every use, you have a larger chance of avoiding clogging and enjoying your airbrush makeup system for a long time.
Bottom Line
Whether you're just starting or you're already into a business, the Art of Air Professional Airbrush Cosmetic Makeup System is a good enough investment that won't hurt the wallet. It's quite affordable and the kit pretty much has all the basic things you need to achieve a daily wear look.
With a bit of practice, even beginners will be able to use the Art of Air well enough quite quickly and make use of all the products included.
Aeroblend Airbrush Makeup Pro Starter Kit
If you want to transition into offering your airbrush as a service, the Aeroblend Airbrush Makeup Pro Starter Kit is a great start. It offers a wide range of foundations and blushes to create different kinds of looks for your clients. It's also pretty affordable, so you'll enjoy your return of investment quite soon.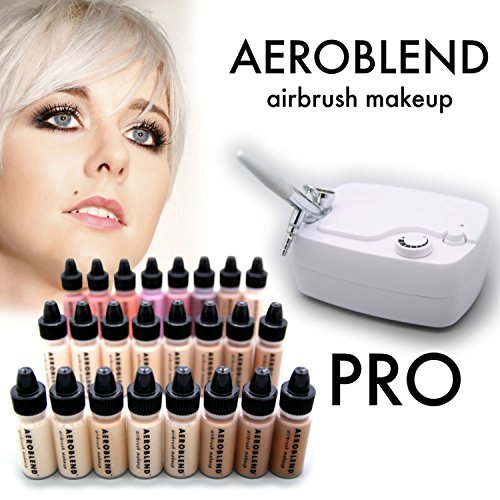 Features
16 foundations
6 blushes
1 highlighter and bronzer each
Double action airbrush stylus
Quiet and fully adjustable compressor
Generous hose length
Directions and customer support included
1 year warranty included with purchase
Advantages
You won't have a hard time transitioning from beginner to professional with the Aeroblend Airbrush Makeup Pro Starter Kit. The price is pretty good and includes pretty much everything you need to work on a variety of different clients.
The compressor is fully adjustable so you get plenty of control on pressure and airflow. To top it off, there's a dual action stylus to help you achieve different looks and strokes. The compressor is quiet and doesn't disturb you or your client while you are working.
Aeroblend also has a wonderful line of cosmetics that not only make you look good but also care for your skin. Aeroblend makeup uses natural soothing ingredients such as kaolin, jojoba, and lavender. It is also water based, contains no silicones, parabens, petroleum, or fragrances.
The result is makeup that's great for all types of skin, including sensitive skin. The set included in the kit covers a wide range of colors to account for different skin tones and achieve different looks. Aeroblend makeup is hydrating, lightweight, perfect for HD use, and lasts up to 10 hours.
Things to be Aware of
The set includes a wide range of foundations for different skin tones, but it does not offer many options for darker skin, compared to other brands. The makeup is unlike silicone based makeup so it only lasts 10 hours. Unless you need to wear your makeup for much longer than that, this might not impact you.
The dual action stylus has a higher learning curve compared to single action. This might take a while to master, especially if you're used to the single action gun. When it's mastered, though, the results are very satisfying.
Bottom Line
For such a comprehensive kit, you'll be able to enjoy it at an affordable price. All of the Aeroblend makeup is made in the USA, so the quality is assured. You can never go wrong with water based makeup, especially this one, because it has added soothing natural ingredients to care for your skin. You and your future clients will be satisfied customers.
Aeroblend Airbrush Makeup Personal Starter Kit
This is a great kit if you're starting out or want to use an airbrush makeup only for your personal needs. You don't have to purchase an all-inclusive professional set. Instead, make use of the Aeroblend Airbrush Makeup Personal Starter Kit. This kit is for users with light skin, but there are also personal kits available for medium to dark skin tones.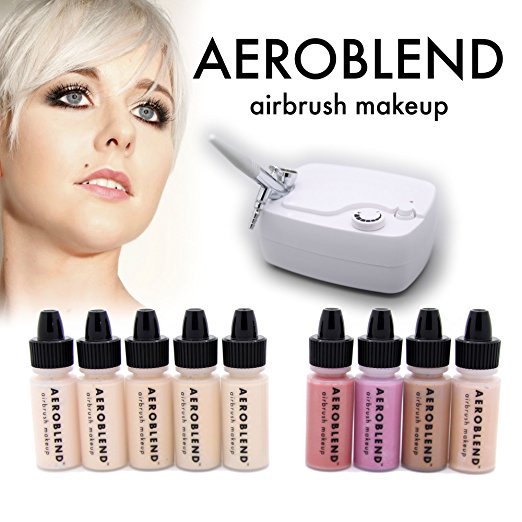 Features
5 foundations in the light skin tone
2 blushes
1 highlighter and 1 bronzer
Ultra-quiet and fully adjustable compressor
Double action airbrush stylus for greater precision
Generous length of air hose
Directions and customer support instructions included
1 year warranty
Advantages
You don't have to settle for the traditional makeup anymore when there are more and more airbrush systems designed for personal use. Gone are the days when airbrush systems were only available to professionals.
If you think you would like the result of airbrushed makeup and might want to use it on a daily or regular basis, the Aeroblend Airbrush Makeup Personal Starter Kit is a great choice.
This particular set is for light skin, but Aeroblend also carries personal starter kits for medium to darker skin tones. You get not one but five light foundations.
You can either find one that matches your skin or, if not, you can mix them to achieve the desired color. You also get two blushes with the kit, so you can to vary your look. Contouring can also be achieved with the highlighter and bronzer included.
If you want to achieve the streamlined look of contouring, you can easily do that thanks to the fully adjustable compressor and the dual action stylus. This control helps you to achieve a light, heavy, detailed, or broad application to achieve certain looks.
If you have sensitive skin, the Aeroblend line of makeup is a great choice. It's water based, contains natural soothing ingredients, and does not contain silicone, parabens, fragrances, and petroleum-derived products.
Things to be Aware of
The Aeroblend Airbrush Makeup Personal Starter Kit is meant for a single skin tone. If you are light skinned, this kit is for you. If not, then make sure you purchase a kit that covers your skin tone.
Since you'll be using this airbrush makeup regularly, you'll have to purchase a bigger bottle once you've found a match in the set included. The bottles included are small. And though you only need 5-7 drops per application, you'll need a bit more when you have blemishes to cover up. It's safer to buy a bigger bottle once you found a good match for your skin.
While the dual action gun or stylus is great because it allows you to control the pigmentation on your skin, it does require a bit of practice. You'll need to practice with this type of stylus, especially if you've learned with the single action stylus.
Bottom Line
Price is good and the set includes pretty much what you need for an everyday look. If you're a professional, getting a pro kit would be much better because the makeup included covers a wide skin tone range.
Pinkiou Air Brush Kit
Airbrush makeup can be bit intimidating. You might think that it's only for professionals, especially given the prices.
If you want to learn how to airbrush without breaking your budget, you can start out with the Pinkiou Air Brush Kit. This kit only includes the airbrush, airbrush holder, and compressor, but with the right makeup, you'll soon be achieving the look you want.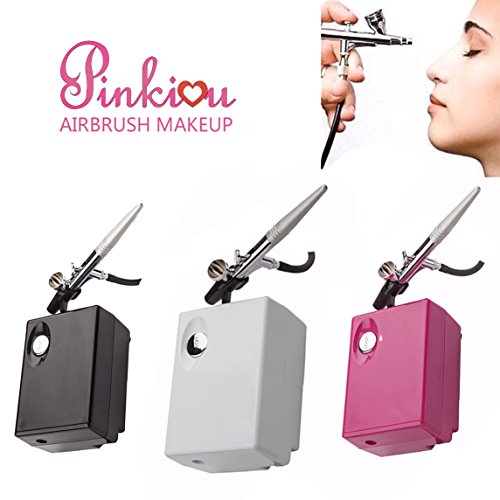 Features
Comes in three colors: pink, black, and white
Made using only high quality precision components
Quiet compressor
Durable construction
Mini and portable
Three adjustable air flow levels to choose from: low, medium, and high
Compatible with water based airbrush makeup
Comes with single action trigger airbrush
Advantages
At first sight, there may be nothing too significant about the Pinkiou Air Brush Kit. It's only a compressor, airbrush, and airbrush holder. But, to the beginner, this can pave the way for their mastery of airbrush skills.
The cost of the Pinkiou Air Brush Kit is very friendly for beginners. It's less than fifty dollars, but the compressor performs quite well. It has three adjustable air flow levels to choose from: low, medium and high.
By adjusting those levels, you can achieve the look you want. It's also pretty small, so it's easy to carry around. You won't have to worry about its durability because it's constructed using high grade materials.
The kit may not include any makeup but it is compatible with most water based airbrush makeup. All you have to do is purchase a water based makeup and water based cleaner and you'll be good to go.
The single action airbrush gun is pretty easy to use and friendly for beginners as well.
Things to be Aware of
If you want the convenience of a kit, then the Pinkiou Air Brush Kit is not for you. However, if you only need to replace or add to your compressor and airbrush, the Pinkiou will be a great addition and it won't cost you much.
Although it has three adjustable air flow speeds, it is not fully adjustable, unlike other brands. There is no direct written indicator of the airflow speed, only a change of light. Pink means low, blue means medium, and red means high.
There have been complaints that the Pinkiou Air Brush Kit does not contain directions or any contact number for the manufacturer for issues with the kit.
Bottom Line
The Pinkiou Air Brush Kit is a great set to start with. However, when you feel that your skills have improved and want to venture into the business, it's highly recommended you get professional sets from reputable brands instead.
If this is only for practice, some other applications aside from makeup, or for personal makeup use, there's nothing wrong with the Pinkiou Air Brush Kit at all.
Temptu 2.0 Deluxe Airbrush Makeup Kit
If you're in the business of providing airbrush makeup and your clients are paying top dollar, one way you can return their trust is to provide airbrush makeup from one of the top brands in the industry. Temptu 2.0 Deluxe Airbrush Makeup Kit (Black) may have a steep price, but it delivers professional results.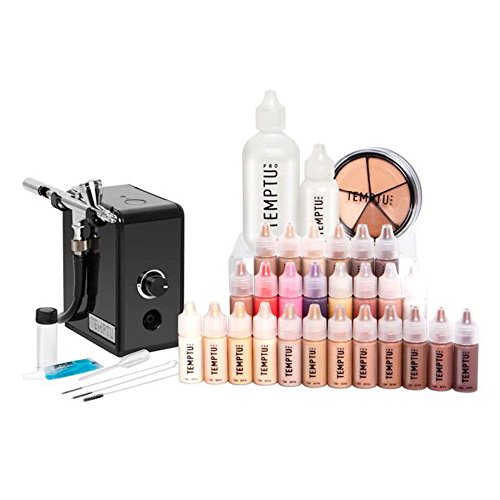 Features
Compressor and SP40 airbrush included
12 silicone-based foundation
8 blush and highlighter set
6 contour and bronzer set
Concealer wheel included
1 silicone based primer
Airbrush cleaning kit included
1 silicone based cleaner included
Advantages
Temptu is known for being one of the best on the market when it comes to airbrush makeup. Their makeup is known for its silicone-based line. Silicone based makeup is known for being longwearing (up to 24 hours) and blends well with the skin to create a soft focus look.
This Temptu 2.0 Deluxe Airbrush Makeup Kit contains all the makeup you'll need to create a variety of looks for different skin tones. All of the makeup is silicone based, including the primer.
You won't have to worry about compatibility between makeups because all that are provided are compatible with each other, including the cleaner for the airbrush itself. A compatible cleaner is important to avoid cleaning and you get to make the most of your airbrush kit.
The compressor is sleek and designed to blend with your surroundings. The color black gives the kit a sophisticated look. It's quiet as it operates and it has a fully adjustable air flow dial. This gives you complete control over the look you're going for.
Things to be Aware of
The Temptu 2.0 Deluxe Airbrush Makeup Kit (Black) is better for professionals. This set is also not recommended for personal use as you will have little need for the wide range of foundation colors it includes.
Temptu is also known for being quite expensive. If this isn't in your budget, you can either save up for it or go for airbrush kits that are more affordable, but perform just as well.
Silicone based makeup is not for the faint of heart and not recommended for daily use. If you're only using this makeup for yourself as a daily wear, you'll be better off using water based makeup from other brands.
For the price you're paying, you'll be expecting a lot more compared to other brands. Other brands in the market offer plenty more bonuses and extras for the same price.
Bottom Line
The Temptu 2.0 Deluxe Airbrush Makeup Kit (Black) can be very tempting for makeup artists and for those who want only the best.
However, if you're still relatively new and still learning the technique, there are more affordable options that are able to perform just as well. On the other hand, if you're a professional, having a silicone based airbrush kit is a great option to offer to your clients.