After some flirtations with different brands, you've finally found your very own trusty falsies. This 'eureka' moment is slightly overshadowed by the fact that you haven't yet found a long lasting eyelash glue that binds the beauties to your eyelashes for more than several hours. Many novices think the secret to wonderful looking lashes lies only in the perfect falsies for your eye-shape when, in actual fact, the glue is just as important.
Top 3 Eyelash glues that last for weeks
Like lashes, when it comes to finding eyelash glue that lasts for weeks, the process is generally trial and error. Your bestie might recommend an adhesive, but glues are so specific to each individual in terms of how they bind and react with the skin. On top of this, some glues are so potent they will make your eyes stream, some are so weak that they won't bind your lashes for long and others don't dry transparently and leave white traces on your lids. The journey to your perfect adhesive can be a long one, but don't worry, we've done all the hard work for you with the top three eyelash adhesives that lasts for weeks, as tried and tested by us.
The Best Long Lasting Eyelash Glue
It goes without saying that you want an eyelash glue that packs a punch but, sometimes, you want one a little bit stronger than the all the others. Perhaps for your wedding day and subsequent honeymoon. We are no longer talking about glues that last hours but days. Here are three of the best available.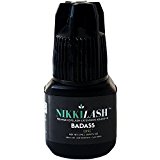 This adhesive is specially marketed to beauticians and make-up artists, giving them the tool to secure client's eyelashes for up to 5-7 weeks (yes, WEEKS). However, the adhesive is also available to you to secure your own lashes for several weeks longer than the top glues. currently on the market.
Latex and Formaldehyde-free, the chances of aggravation from this glue are minimal. Better still, the quick-drying formula means that the binding and drying process is very quick (the bottle promises 2 seconds, but even if you allow a few seconds more it's still considered exceptionally quick).
Once opened, the bottle does have a significant smell but its fumes don't cause watery eyes like some competitors, nor does it interfere with your application. The color dries dark in appearance, working to give the lashes some definition like an eye-liner.
Badass like its name, this adhesive bonded our tester's eyelashes for over 2 weeks, by which time she was ready to remove them for the next glue test – who knows how long it would have lasted otherwise, we are confident she might still be wearing them!
Best for: Epic long term hold that is perfect for holidays.
Unlike Badass, this Cardani formula dries clear which definitely has some advantages when it comes to application. The color is essentially neon blue but dries transparently – which is a wonderful indication of when your lashes are dry. The promise is not the same Badass, we aren't talking an epic 5-7 weeks but this is a glue that will totally bind all day but let you remove it without any drama.
On application, the glue takes about 30 seconds to dry – remaining tacky for several seconds, so that you can move into correct position. It holds tight during all your day's activity, even when faced with happy tears, and the removal process is really easy – just wipe with a cleanser to dissolve the glue and go.
Best for: Long term hold for a special occasion that demands easy removable within a few days.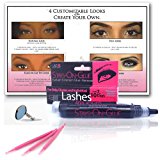 This cheeky little bottle packs a punch with its hypoallergenic solution. Not only is it Latex free, non-burning and odorless, it is also completely waterproof – ensuring your lashes stand up to tears and even holidays by the pool. This is a distinct advantage against other eyelash glues, which don't live up to the same promise. In fact, not everyone knows this and continue to seek out waterproof liners and mascaras whilst forgetting that their glue is just as important when it comes to standing up to water.
The Stays-on-glue adhesive comes with all the tools you need for application, including three lint brushes that really help you get into the corner of your eyes. You can make the most of these tools, or do your own application with tweezers – the glue performs just as well whatever your tools of the trade are.
With a creamy, textured look, the glue appears to dry a dark, a lot like an eyeliner – adding definition along the eye-line. The bottle may be small, but it packs a ton with the promise of 50 wears.
Best for:  Anytime water will be involved, this should be the only glue for you.
These three long lasting eyelash glues pack a punch in holding your falsies hard and holding them long, don't settle for less – your lashes should stay put as long as you want them to.
What To Do Before You Glue
SPOT TEST, SPOT TEST, SPOT TEST
We cannot stress the importance of spot testing, which will ensure you don't have an adverse reaction to the glue. Spot test at least 24 hours before you plan to use the adhesive. Latex allergies are surprisingly common and you might not even know that you suffer until it's too late. If you find out you do suffer from latex or have a known latex allergy, do not fear because there are lots of high-quality latex free alternatives (stay tuned to read more).
UNBOX AND TRY WHAT YOU BUY
When you unbox your faux lashes, you might notice that they already come with a glue. By all means, give this one a go – it might be totally perfect for you. It might, however, be so bad that it puts you off falsies forever. Remember that your falsies are not to blame for your bad adhesive and quickly move on to another glue on the market – there is a reason that the very best glues can be bought separately.