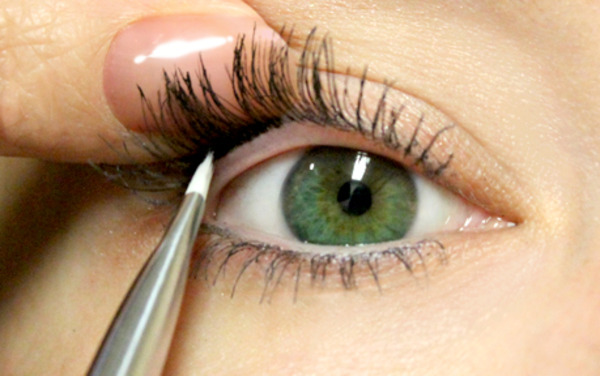 Fact is, perfecting your eyeliner technique takes time and, most of all, patience. Whether it's fabulous flicks or a super smooth streak, getting to grips with liner techniques can be tedious which is why so many beauty vloggers and bloggers are going ga-ga for tightlining – an eyeliner technique which is easy to achieve and offers great results. Unlike normal lining techniques, tightlining works under the lashes (right in the water line) – making for perfectly framed lashes with less effort and a more natural result. Here we break down everything you need to know about this liner technique and test the best tightliners – so, read on for the big reveal!
Our Top Rated Eyeliners For Tightlining 2018
What is tightlining?
Tightlining is not a new technique since make-up artists have been practicing it for years as a way to make eyes pop in a more natural way. However, it's had a bit of a resurrection as Instagramers and Vloggers come to understand it's eye enhancing benefits and often reference it as "invisible eyeliner". In essence, tightlining is the process of applying eyeliner right inside the lash line – specifically on the waterline, and filling in any gaps on the lash line. It emphasises the eyes because it creates a contrast between the irises, whilst giving the impression of thicker and fully lashes without eyeliner. More importantly, it serves to open up the eyes in a way that eyeliner cannot always do.
If you want to learn how to tightline, view this video.
How to tightline!
Tools: Mirror, tightliner and Q-tips (and a steady hand!).
Get into position –

Tightlining is best achieved by putting a mirror on to a flat surface, so that you have to look down to gaze into it.

Pull your lid tight –

Once looking down, use your non-dominant hand to pull your top eyelid gently up and use your dominate hand to tightline.
Start from the outside –

Start from the outer corner of the eyes and move the brush gently across the waterline, from the outer to inner corners. If the brush doesn't move smoothly, it's best to

wiggle as you go

.
Tips: Remember that the key is not to have any liner above the lashes, the objective is to achieve fuller lashes without looking like you are wearing liner. If you do have any smudges, you can clean with a Q-tip dipped into water-based make up remover.
How do I pick my perfect tightliner?
When it comes to picking the perfect tightliner, note that a waterproof formula is ideal because you'll be applying the liner right into the splash-zone. Apart from that, there are no hard and fast rules about whether you opt for a gel, pencil or liquid – in fact, it's good to play around and see which texture is best for your eyes. Here are the benefits of each:
Pencil: Our beauty experts recommend eyeliner pencils if you are new to tightlining (and many other experts agree). This is because they are easy to control and they also dry quickly. Plus, they are easy to remove in case of error!
Liquid: If you opt for liquid, we recommend a felt-tip style pen which has a thin nib and will enable access right into the waterline.
Gel: Gel liner is often the go-to for make-up artists because its application is so smooth and it's staying power packs a bunch. However, it's worth noting that gel liner does require a little more skill – so remember, practice makes perfect!
Important to note
Remember that when applying a product that comes so close to the eye, you are at risk of irritation so experiment with our top picks below and see which is the perfect liner for you. Most of all, always take things slowly when operating close to the eye.
Best Tightliner Reviews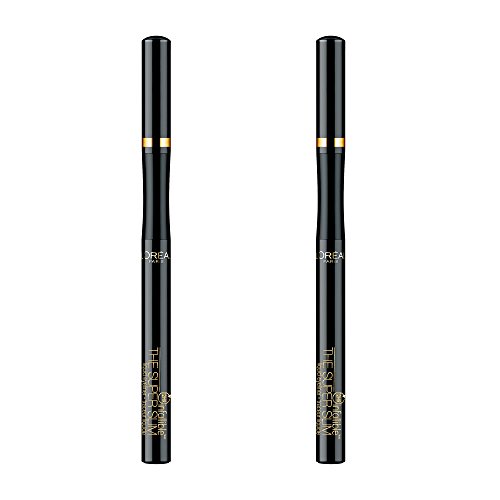 First impressions: L'Oreal market this liner as "super slim" and that's very apparent in the nib which is fine (and promises lines as thin as 0.44m), yet really staple when pressed with a finger. The pencil itself is very thin, yet is easy to grip and doesn't slip.
Application:  The formula is gel based, which makes for a smooth application as the liner glides along the lash line without any drag. The pigment is matte but note that the darkest application is not apparent on the first stroke, so it's worth wiggling around and applying more than one swipe to get the darkest colour.
Result: The smooth application ensures a natural finish which draws attention to both the lashes and the eyes in a subtle way. What's more, a more dramatic finish can be achieved by layering applications. The result is a defined line that is softly blended into the lashes.
Benefits: This liner is available in four colors, which means it can match various eye colours and lash shade. On top of this, each colour is made from a stay put formula which is crafted to stay on for 12-hours.
Disadvantages: This liner is not waterproof which means that it makes for some small smudging if it comes into water contact with liquid (including tears and sweat) – this means this is not the ideal liner for an emotional occasion or workout.
Good to know: This product has been tested on sensitive eyes by an ophthalmologist and L'Oréal promise that is suitable for contact lens wearers.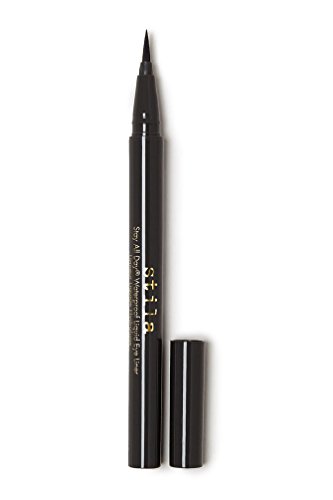 First impressions: When first unboxed, it's really noticeable how fine the nib is on the stila Stay All Day Waterproof Liquid Eye Liner. In fact, it's this fine nib makes it especially good for tightlining – with its cunning ability to get right into the corners of the eye and right to the waterline.
Result: The thin nib makes for great precision, the result is a defined line that serves to give the appearance of thicker and fuller lashes. Due to the precise application, the look is a very defined line that can be built upon for a dramatic look.
Application: The unique felt-tip application is specially designed to prevent feathering and smudging, meaning it glides smoothly under the lashes. The very small nib gets accurately under the lashes and right into the lash line, gliding easily without any wrinkling or sticking.
Benefits: This liner comes in a whooping 14 colors, meaning that every beauty lover will be sure to find the perfect shade. Not only this but the formula is specially developed to be waterproof – meaning that it stays put even when it comes into contact with a moist waterline.
Disadvantages: stila liner is one of the most premium on the market, with a price point that reflects this. However, if you want a liner that offers precision and stays put when faced with water, it might make for a very wise investment.
Good to know: For a liquid liner, the stila dries exceptionally quickly – making it perfect for on the go or when you are pushed for time!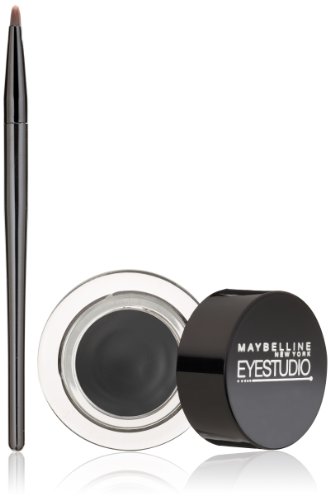 Maybelline New York Eye Studio Lasting Drama Gel Eyeliner
First impression: The product includes a brush, and a gel formula which is stored in a jar with a screw on lid. Those who are familiar with gel formulas will already be familiar with this two piece system, but for novices it might take a little bit of getting used to.
Application: Similarly, when it comes to applications – those who are au fait with gels will be up and running quickly but the novice might require some practice. The best technique lies in dipping the brush into the jar and wiping any excess off on the rim. Once this is mastered, the gel offers a very smooth sweep which glides along the lash line and which can be built on to create a darker intensity.
Result: Due to its gel formula, this product is not prone to cracking, which makes for a precise line that serves to frame the eyes. While the product serves to offer "invisible eyeliner", eyes are most certainly set to 'pop'.
Benefits: One exceptional benefit of this formula is the volume, which is 0.106 (more than an average felt tip style liner). We found that this meant that the product stood up to daily use every day for 6 months. On top of this, the accessible price point makes it one of the cheapest gel liners on the market.  
Disadvantages: The formula is not waterproof and it was noted that, when in contact with tears, that it did smudge a little.
Good to know: After each use, it's important to clean the brush to keep it in optimum condition. To do this, simply wipe with a tissue and be sure to close the gel jar tightly to prevent drying out.
The verdict
Our three liners all performed well for tightlining, however one product really stood out above the others and that was the stila Stay All Day Waterproof Liquid Eye Liner. Here is why:
Easy to use:

The felt tip formula was easy to grip and simple to use, while the small nib shape makes for an easy application in difficult to reach places.

Smooth application:

The formula is specially created for flawless gliding with no feathering or smudging.
Waterproof formula:

The waterproof application means that this product trumps its competitors, particularly when in contact with the waterline (and even tears).
Wide range of colors:

This liner is available 14 colors, meaning that the user can find the optimum shade that flatters and emphasises their unique eyes colour.
We think we've found the very best liner for tightlining, and hope you will agree!