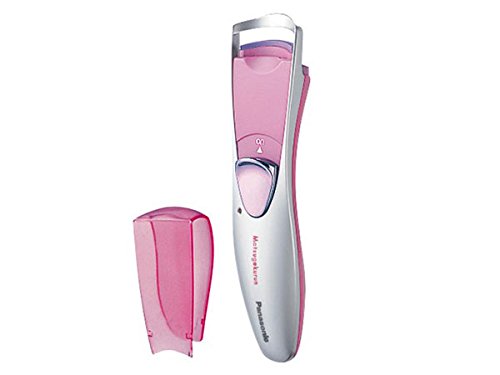 The struggle for the perfect eyelashes is real! After all, nearly every one of us complains about lashes that aren't long enough, aren't think enough or aren't dark enough and we turn to the tools of the trade to add length, volume, and thickness. Amongst your eyelash beauty essentials, you can include mascara, falsies, eyelash glue, and adhesive which all work to emphasize our natural lashes beauty. However, one tool that is often overlooked is the heated eyelash curler. We aren't quite sure why the curler is overlooked so much, perhaps it's the fact that it does look like a medieval weapon of torture. Whatever the reason, it's a pity because, when used correctly, eyelash curlers can help you look more awake and your whole appearance fresher. If you haven't yet added a curler to beauty regime, read on and prepare to full in love with this beauty essential.
Panasonic Double Action Heated Eyelash Curler


The Panasonic brand name should be enough to convert you to this product, but if it's not then let us tell you why it tops the list as one of the best heated eyelash curlers of all time. First up, heat is controlled by a manual setting – which actually serves to make sure you never leave them on by accident. If you've ever gone to work worrying your straighteners are still on, this is the curler for you. Don't let the fact that you have to hold the button down to heat up deter you, it literally heats up in seconds – so don't worry about any potential cramp in your hand. You can have fun experimenting with the perfect look, which can range from just seconds or curling to a whole minute of holding (yes, the Panasonic Double Actioned Heated Eyelash Curler is perfectly safe for over a minute's use).As for shape, the handle is ergonomic, sitting comfortably in your hand so you can keep it in a downward position or slightly lift and pull the curler for an outward flick. The results are amazing if you get the curler as close to the eyelid as possible. Think open and dramatic lashes which seem to defy gravity.This works with batteries, that need to replaced about once a month if used every day.
Best for:  Those who have been known to leave their heated appliances on too long (guilty!).

TOUCH Beauty High-end Series EC-1218 Rechargeable ±360 Rotary Heated Eyelash Curler


You won't believe it, but this really is a curler – just not as you know it. It doesn't have the usual clamp and looks much more like a heated mascara and that's probably the best way to embrace it when it comes to the application.This fully chargeable (via USB) curler has a 360 degree rotating comb which means you can get into those little hairs at the corner of your eyes, in a way that a traditional clamp can't. The circular comb lifts and curls without pinching and without the risk of any unsightly crimp mark.Preheating time for this curler is about 40 seconds but for a dramatic look, you can leave it for a couple of minutes. The beauty of this curler is it works to flick lashes to the outer corners and, therefore, comes with a "lift left" and "lift right" button – you just need to tell the curler your style requirements.  For each section of your eyelash, best results are obtained if you leave the curler in place for 8-10 seconds.The results with this curler are amazing, lifting every single lash – even those stubborn corner ones which never seem to behave!  The result is thicker and fully eyelashes which stay curled all day.The curler works for approx. 1.5 hours with every charge which takes around 3 hours.
Best for: This cheeky little tool is set to up the beauty game of those who curl their eyelashes every single day and need a curler with charge.

JAPONESQUE Go Curl Eyelash Curler


Available in two colors – both black and pink, it's clear to see that aesthetics matter, but does function?  Well, yes!  First up, the clever design is engineered so that you can never get too close to your lid and pinch it. Secondly, that same design ensures you curl your lashes right at the lid – right where you should.The promise is for deep sweeping lashes, and this certainly delivers. Which is not a surprise considering that the company Japonseque have been top of their game over for 30 years now. This tool is essentially a curl and go, super quick to heat up and very quick to curl. Fans of the curler promise that once converted to Go Curl Eyelash Curler, you'll never go back.We have to agree with the promise, our tester used this product without mascara and two days later lashes were still beautifully curled. Our tester also used the curler with mascara to test to see how the lashes C curl stood up to mascara and the results were outstanding – no drop, even after a second coat of mascara.Our top tip, buy the pink color which allows you to see your lashes better than the black.
Best for: Those who fear the pinch. Take the pain out of your curling with this curler which is completely and utterly problem free.
Hitachi HR-550-P Pink | EYE CRiE Eyelash Curler                                                                                                                                                                                                                                This product comes straight out of Japan, a country famed for the best in beauty appliances. Don't worry though, this product is specially developed for all eye-shape (not just Asian).Light and compact, this curler can slide into your make-up bag right beside your essentials. With a clever little light that lets you know when the device is on, this curler is really user-friendly. When used, the effects are really dramatic – in fact, lashes seem to stand vertically, defying gravity and the effect might even be too strong for those who just want a natural lift. However, those who want to push their lashes to the maximum curl will just love this product.The curl managed to stay perfectly in place, even when used with a mascara which can sometimes weigh the curl down and cause it to drop.Unlike the Panasonic curlers, these have a very clear on and off switch, which means you can heat the curlers up minutes before you need to use them.Available in three colors – pink, beige or white.
Best for: Dramatically curled lashes that really make a statement.

Panasonic ES2351AC Heated Eyelash Curler with Comb Design


Another entry from Panasonic, but when they make products this good then why not? This time it's not the traditional curling shape but more of a wand, on par with OUCHBeauty. This heated eyelash curler provides long-lasting a curl in seconds and, unlike some curlers, the heat is even applied for maximum impact. In fact, the heat is distributed along the whole length of the lash so that each lash stands to attention and really 'pops'.With this curler, there is no risk of the L effect crimping (when the lashes stand up at an angle, rather than curler) and there is most certainly no pinching. Thanks to the protective comb each lash is given one on one attention, making it the best it can be.With the gentle heat created by the Panasonic heated eyelash curler comb, you can easily create the natural-looking curl you want in no time, and look your best all day at work, or out on the town at night. Dual heated pads designed into the heated eyelashes curler's circular comb quickly relax and separate lashes for a look much favored by Megan Fox.Best of all, this curler is totally compact and battery operated meaning it can slip into your purse or make-up bag really easily and can be used as and when needed. Perfect when traveling or for touch-ups at work, the gym or on a night out.Admittedly this type of curler is harder to use than a clamp and takes more practice but the results are worth it – totally natural and long lasting.
Best for:  The girl on the go.
The Buyer's Guide For Eyelash Curlers
So we've converted you to curlers but you still find it intimating thinking about the energy needed to get the perfect curler for you. Taking your eyelashes up a notch need not be something to fear, even if it seems there are millions of curlers on the market. Here are the only real factors you have to consider:
Exactly what to Look Out for When Buying a Heated Eyelash Curler
Price – budget is a big deal, as with any beauty purchase. Our best advice is to try and view curlers as an investment – after all, they might save you money on falsies or mascara in the long term. Plus, can you really put a price on eyelash confidence? We don't think so!
Warranty – Some curlers come with a warranty, some come with a lifetime guarantee. Some curlers even promise new replacement inserts if needed. It's up to you to consider how significant the warranty is to you, based on how often you plan to use your curlers and the price you paid. For example, the more expensive the curlers are, the more they are going to cost you to replace if they break with no warranty.
Eye shape – Yes, different curlers work better for different eye shapes. If you have lots of little lashes on the inner corner of your eyes, you might find it best to use a wand curler. If you have very straight lashes, you want something that naturally curls upwards. This is where user reviews prove invaluable.
User reviews – If the beauty site you are purchasing from hosts reviews, then read them. True, one person's beauty 'essential' might be another person's waste of beauty budget but you should be able to gauge a general consensus. Be sure to also pay attention to any particular points which effect you personally, like notes on particular eye shapes or eyelashes.
Brand – it's almost a cliché, but when it comes to beauty products most of us prefer to use a brand we are familiar with and stay brand loyal. If you have a favorite cosmetics brand you might be keen to jump on their curlers, but remember that every product in a brand's portfolio greatly varies and just because they do one well, doesn't mean they do everything well. However, it's certainly a good port of call to start with your favorite brand (especially if you support then for ethical reasons).
Power source – Maybe you are happy to work with a product that is portable and runs on battery juice or maybe you want a product that can be charged. If you want it charged then think about your lifestyle, how best do you want to obtain that charge – via wall socket or USB?
Compactness – Think about how you'll use your curlers, will you want to carry them with you day-to-day, or will they just stay in your make-up drawer? If you will carry curlers with you every day (perhaps to the office or the gym) how compact they are will matter to you.
Colour – Perhaps insignificant but many curlers come in a range of colors and you'll have to make a call on it. Some argue that black curlers aren't as good because you can't see the placement of your eyelashes on them. Other than that, go for what you like! The sight of your curler should make you happy.
Mechanical Curler Vs Heated Curler
When it comes to curlers you are either in the hot or the cold camp. Mechanical curlers rely on pressure to curl and lift your lashes, one trick of the trade is to use a hairdryer to slightly warm the metal which gives your lashes a little bit more lift. However, even with this hack – your lashes will not have lifted as much as they do with heated curlers. It makes sense right? We use heat a lot in our beauty regimes, from blow-drying to straightening our hair, so why not incorporate heat into your lash curl?  After all, what would a hair curl be with cold curlers?
Many beauty lovers fear heat because it adds a precious few seconds to the (often rushed) morning beauty regime. The reality is, they only take about 30 seconds to heat but actually perform much quicker than normal curlers which need a bit of pressure for much longer.
If you are still in the cold camp, it's time to move to the hot. It might take a bit more practice for novices (and boy, do we suggest practice when it comes to adding heat to your eyes) but the pay-off is worth it.
Have No Fear
If you are a curler novice, try not to worry – it can quickly become second nature, you just need to learn to do it properly. By properly, we mean by avoiding the dreaded eyelash crimp (when you don't go close enough to the eyelash lid) or by holding your curlers on the lashes too long, to the point where they fall out. Sorry, we don't mean to scare you but if you know the pitfalls you can go some way to avoiding them. Here we list some tips:
Mascara Second
First up, there is an eternal debate about whether to apply the mascara before or after curling and, if you using a heated curler, we strongly recommend before. Using heat over your mascara can make your mascara bind to the curler and can pull the lashes out. That said, be sure to do your eyeliner and eyeshadow first – otherwise you will lose the curl as you do the application.
However, for the pros amongst you, you might want try this little-known hack – apply your mascara as you curl your lashes. If natural lashes tend lie straight, clamp your curler at the base of your lashes and apply your first coat of mascara. When you apply mascara afterwards, the wetness and heaviness of the mascara can make the curl fall out of your lashes. Reinforcing them with a curler as you apply your first coat helps boost your curl's staying power, but it's most certainly not one for novices.
Which leads us on to. . .
Yes, You Can Use Curlers on Falsies
It's totally fine to use curlers over false lashes, just be sure to follow the mascara last rule (if you use mascara with your faux lashes). Just be careful to choice a quality adhesive that can cope with the extra pressure of the heat.
Curling your lashes
Tools at the ready? Ok, time to take this slow. If you are using heated curlers (and we hope you are) then make sure they are ready.
1)    Ensure your lashes are clean, free of any traces of mascara.
2)    Open your curlers and clump them around the base of your eyelids. The position you want it in is as close to the eyelid as possible. If you aren't close enough to the lid then you create a crimped appearance, go to close and you'll pinch your eyelid.
3)    Now, once you have the right position (this can take a bit of wiggling) clamp the curler closed and gently engineer the curler so that is upright and hold (do not pinch your lashes).
4)    Open your curlers and check out your curl, the good news is you can repeat this process as much as you need to get the perfect curl.
5)    Once satisfied, apply mascara to hold the curl.
Now you've mastered step 1-6, how about adding 6:
6)    For maxi-curls, clamp your lashes at the very base, press the curler tightly closed, and hold the lashes in place for 15 seconds. Completely release the clamp and move it about halfway up the lash hairs and turn the curler at an angle parallel to the ground. Clamp closed and hold again for 15 secs. Lastly, move the curler to the very tip of your lashes, and give one final curl, turning the lash curler almost upright for dramatic lashes from the ends to the tips.
See how easy those 5 (or 6) steps are, what is there to be worried about? After all, celebs have been down with eye-lashing curler for years.
Final Verdict on The Best Heated Eyelash Curler
Hopefully, we've converted you now to using curlers. They all offer a terrific appearance, and if this is the very first time you've purchased a heated eyelash curler, we believe you'll never ever look back! The Panasonic is our number one for ease of usage, efficiency, and durability.
Celebrity Eyelashes
Have fun practicing with your curlers and if you need inspiration, check out celebrities whose eyelashes we most covet:
Mila Kunis
Mila frames her cat's eyes with perfect lashes that work from the inside out. We can imagine she works with curlers on the outer edge, for perfectly beautiful and sexy eyes.
Megan Fox
Megan's eyes have a totally magnetic force, drawing you – thanks, in part, to her beautiful lashes. For Megan, the key lies in separating each lash with mascara and working with a curler to drive every lash upwards.
Kerry Washington
Kerry Washington is all about the statement top lid and the barely-there bottom lid. She favors dramatic, upright lashes which she totally pulls off as she bottom lid is kept so natural.
Liv Tyler
If you look at genetics (Steve Tyler) we lead to believe that Liv's eyelashes are actually totally natural, brought to life with just a little bit of curl.
Nicole Scherzinger
Favoring an old school eyelash charm, Nicole works to emphasis both her top and bottom eyelashes. Her top lid lashes are boosted with false and then curled into an exaggerated C.
Kate Middleton
Famed for bringing back the charcoal eyeliner (as Princess Di was before her) Kate favors a more natural curl and mascara.
Kim Kardashian
Without a doubt, Kim is a massive fan of falsies but it's also obvious she takes a curler to those falsies to really defy gravity
Conclusion
Now you have the ultimate guide to buying and using curlers, plus advice on the best curlers on the market and celebs' must-have shapes – go out and find your perfect curler. It might just be the start of a beautiful relationship. . .