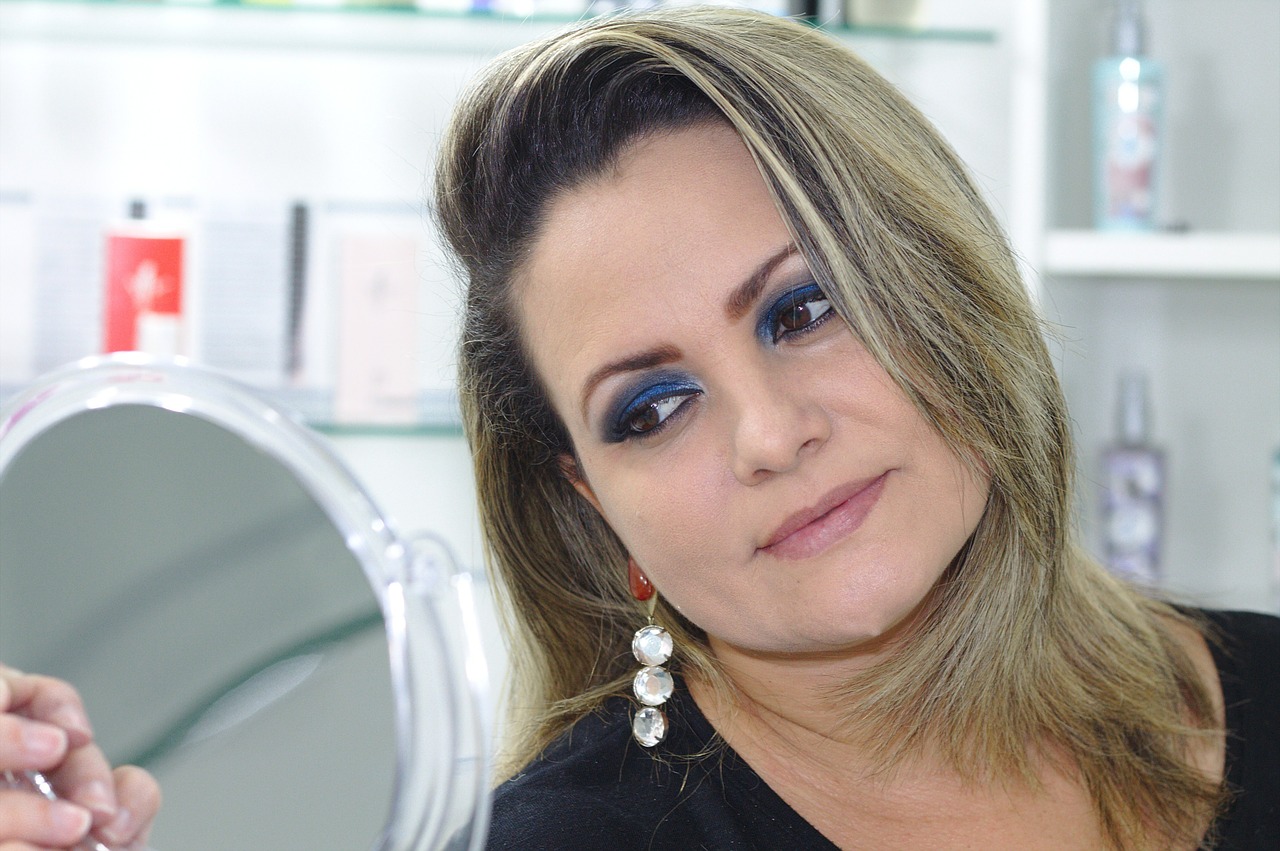 It is widely agreed that the best time to apply your makeup is when you have natural light around. Most of us don't have jobs that allow us to wake up late and get ready when the sun is giving us a luxurious amount of natural light. Most of us must wake up early when natural light is limited and apply our makeup at this less than ideal time. Besides that, many of us don't have the luxury of having a home with a lot of windows.
You understand this struggle best when you get to work or school and notice that you have a foundation ring around your jaw, or your eyeshadow is darker on one side. Clearly, getting ready in near darkness is not a good idea. You need a lighted makeup mirror. And not one of those old Hollywood globe mirrors, that look cool, but will have you sweating while you get ready.
A lighted makeup mirror will allow you to evenly apply your makeup and never miss a good blending opportunity. It sounds great, right? But where would you begin your search? You can start right here.
What Are Lighted Makeup Mirrors?
Lighted makeup mirrors is a bit of a mouthful, but they also come under many different names. This is useful information because while you're searching high and low for a lighted makeup mirror, you might be looking past vanity mirrors, makeup mirrors, cosmetic mirrors and even "a girl's best friend".
When you are busy browsing on the internet you might also come across magnifying mirrors and table top mirrors. These can also be lighted makeup mirrors but will have different functions besides the essential lighting. For men, these mirrors are referred to as shaving mirrors, and can also be installed in a shower.
These lighted mirrors are a basic essential for most girls because they help you to properly apply your makeup. They also help ladies with failing eyesight to see better while they put on their makeup. They are also useful to men who want to maintain their beard/mustache or who just want a proper shave without missing any spots.
Mirror Styles and Designs
Thankfully, lighted mirrors come in a wide variety of shapes, colors, and sizes so they will match up with almost any décor. You should take your time browsing for a nice match to your overall room design before settling for anything spartan or utilitarian.
Next, you need to decide what kind of mirror you want. Just picking a mirror at random means that you could be missing out on a bunch of potential benefits. Here are a few of the basic shapes and designs that could go a long way to creating a makeup situation that benefits you.
Metal framed mirrors- These mirrors tend to be heavier for increased stability. These types of mirrors are usually designed to stand on a bedside table or on a vanity, and their stability makes them difficult to knock over.

Plastic Frames- Most of these types of mirrors also tend to have foldable pedestals and are battery powered. This is ideal for the traveling woman who needs to apply her makeup on the go.

Wall-mounted mirror- If you are a home owner or you don't move often, then this is a good way to personalize your bathroom. They will take up less space and can be incorporated into the décor.
Your Ideal Lighting
Now that you know what type of mirror you want, you need to decide what kind of lighting would suit you best. If you choose the wrong kind of lighting, it could make your skin appear lighter or darker than it is, which would render the need to a lighted make-up mirror pointless.
When applying make-up, you will need to choose a light source that closely mimics natural light. But when shaving or grooming, you need to choose incandescent lighting. Incandescent lighting is warmer, and will provide softer illumination. But if you use incandescent lighting for a make-up mirror, it will alter your appearance. This is the main difference between make-up and grooming mirrors. If you intend to use a lighted mirror for shaving then you can't assume that a make-up mirror will do, and vice versa.
If you intend to use a lighted mirror for make-up, then you best bet would be to choose an LED or fluorescent bulb, since this is as bright or brighter than sunlight. LED lights are also more environmentally friendly and don't ever need to be replaced. Fluorescent lightbulbs are also great, but they only last for about three years or so before you need to replace them again. Fluorescent lightbulbs are also cheaper than LED bulbs.
There are also specialized make-up mirrors available that can be adjusted to suit any room or time of the day. These are generally more expensive, and are rarely practical for travelers. They are the more versatile choice however, and will be the best option when you need to apply make-up in different lighting conditions.
Magnifying Mirrors
Magnifying mirrors aren't just for those of us who struggle to see anymore, they are also used to perfect finer details. They can help with the precise application of foundation, mascara, eyeliner, lip color and can be useful if you need to remove or insert contact lenses. They are also ideal for when you use tweezers to remove unwanted hair.
Most lighted mirrors are double-sided, with no magnification on one side, and a side that is magnified. You can choose which strength you would like since the magnification can come in different strengths from 3x to 10x. It is worth noting that anything stronger than 10x magnification will have special distortion to allow you to see better.
You need to keep this in mind when decided what type of lighted mirror to buy, since you will have to be very close to the mirror if you choose a magnification strength higher than 10x. If you choose a mounted mirror, it will have to be in a position where you can get very close to it.
On the bright side, you don't have to worry about such a strong magnification if your eyes are fine or if you aren't a professional make-up artist.
Product Reviews:
The time has now come for you to choose a lighted makeup mirror. Don't worry, you have all the information you need to make the right choice. But to help you along your way, we have rounded up ten of the best lighted makeup mirrors on the market and provided a succinct review for each.
Jerdon HL65N 8-Inch Lighted Wall Mount Makeup Mirror with 5x Magnification
Jerdon Luxury is a respected brand that has supplied luxury hotels and cruises with cosmetic mirrors for over forty years. Their latest lighted cosmetic mirror is a wall mount mirror with a sleek and polished look. The extension arm is adjustable and allows you to position the mirror for the best use.
It is a round swivel mirror that is double sided, with a 1x magnification on one side and a 5x magnification on the other.  The product comes with all the equipment needed to mount it on the wall, as well as a replacement bulb.
Pros:
Fog free

Adjustable

Well built
Cons:
Lights get hot

The finish doesn't last long

Light is dim
Summary:
This is a wonderful cosmetic mirror with a lot of advantages. The only problem is that the shape doesn't offset the brightness of the light. This isn't a major problem, it just means that you will have to stand very close to it to avoid the light glaring in your eyes.
The sleek design will fit into almost any décor, and it is useful to have a swivel mirror with two different magnifications. And adjustable and extendable wall mount is another advantage that should be taken into consideration when making your decision.
10x Magnifying Lighted Makeup Mirror
Sold by the Upper West collection, this is an innovative mirror that seems to be taking over the market. The mirror is compact and cordless, with LED lighting and a suction cup that allows you to put the mirror wherever you have the space. On the wall, next to your bed, or anywhere else.
The clear six-inch screen gives you enough room to do your make-up and the 5x or 7x magnification allows you to focus on whichever area needs the most attention. The fact that it folds up and the suction cup at the back means that you can use this mirror when travelling. If you travel a lot then it is a good idea to get a mirror that is practical.
Pros:
Powerful magnification

Long lasting LED lighting

Suction cup will adhere to most surfaces
Cons:
Magnification can be too powerful for general make-up application

On/off button is overly sensitive

Some issues with the light
Summary:
Besides the light being prone to overreacting, the mirror does well. It comes in different magnification strengths so you can choose. It is also portable, but the best advantage is the fact that it is cordless. I do wish that it was double sided though, since the magnification is very strong.
Conair Oval Shaped Double-Sided Lighted Makeup Mirror
Conair is a giant in the beauty market, and so their products are usually very good. Their latest mirror is oval shaped with a soft incandescent glow. It is a double-sided swivel mirror, with a 1x magnification on one side and a 7x magnification on the other.
It has a shiny, metallic finish that would be a perfect fit in the modern bathroom or vanity. You will also be able to rotate the angle of the head to see yourself from any angle.
Pros:
Stable and level

Double sided magnification

1-year limited warranty
Cons:
Bulbs need to be replaced regularly

Has a cord

Incandescent lighting
Summary:
While double sided mirrors do give you more of a choice when applying make-up, the fact that it comes with a cord can be a bit frustrating. The best feature is that you can adjust the head, and the fact that the stand will always keep the mirror stable and level.
Fancii 10X Magnifying Lighted Makeup Mirror
With powerful magnification and advanced locking suction, this is good portable mirror. It also has great lighting, some of the closest you will ever find to natural light, allowing you to see clearly when applying make-up or tweezing facial hair.
The mirror does come with a travel pouch and can be folded, allowing you to take it on the go. It is fully adjustable, can rotate a full 360 degrees and is battery operated. If you aren't happy with the product, the company offers a full refund.
Pros:
Cordless

Adjustable swivel

LED lighting
Cons:
Heavy

Lighting can be tough on the eyes

Batteries and mirror must travel separately
Summary:
One of the more highly recommended mirrors, it comes with quite a few highlights. Once again, the only complaint is that it isn't a double-sided mirror and you will have to deal with the powerful magnification. Otherwise, the mirror is well designed and could be an asset to any vanity.
Simplehuman 8 Inch Sensor Mirror, Lighted Makeup Vanity Mirror
This is the cosmetic mirror of the future. Instead of batteries or cords, it charges, with one charge lasting up to five weeks. It uses patented Tru Lux lighting which closely mimics natural light. The powerful 5x magnification doesn't distort any part of your face.
The mirror is also energy efficient and works with sensors to detect your face. As soon as you come close enough, it will turn the light on. The light will gradually dim as your eyes become accustomed to the light, and it will switch off as soon as your face isn't detected anymore.
Pros:
Charges with a standard USB cable

Strong light

5-year warranty
Cons:
Unreliable

Not anti-fog feature

Very big
Summary:
This is an advanced mirror with many pros. The problem with being technologically advanced is that you're the first to have to deal with bugs, of which there are a few. Every time you move your face away from the mirror, it will turn itself off, which can get annoying.
Jerdon Tri-Fold Two-Sided Lighted Makeup Mirror with 5x Magnification
This mirror comes with a sharp white aesthetic which has the advantage of fitting into almost every home's décor. It has four adjustable light settings for any time during the day, making it one of the more versatile mirrors on this list. You can choose between two magnification settings, and the mirror has two side flaps so that you can see your face from any angle.
Pros:
Adjustable light settings

Adjustable mirror

Built-in electrical outlet
Cons:
Not very stable

Plastic

Extremely bright
Summary:
Mirrors with adjustable light settings are versatile, since they can give you the best light when applying make-up at different times in the day. This mirror also gives you the best view of your face, and the angle eliminates any shadows that could fall across your face. It isn't very stable though, so you will have to be very careful not to knock it over.
Double Sided Natural LED Lighted Makeup Mirror
A double-sided mirror with LED lighting and dual magnification, this mirror is out for the win. It can be adjusted to any angle so you can see each part of your face when applying make-up. It is fog free, so you can also use it in your bathroom, and the halo-effect lighting will prevent the glare of the lights from affecting your eyes.
Pros:
Comes in sleek packaging perfect for gifts

360 degrees, double-sided swivel mirror

LED lighting
Cons:
Dim

Small

Magnification isn't strong enough
Summary:
This mirror has a wonderful concept and delivers on most of its promises. It works well and there aren't many complaints. The only major flaws are that the light isn't very strong and that it is a small mirror. This could be credited to personal preference, and you will have to decide whether those problems bother you.
Easehold LED Lighted Vanity Mirror MakeUp Tri-Fold
A 3-panel mirror allows you to see different angles on your face which would be quite difficult with a normal mirror. This one comes with LED lighting which will last for a while. It has a recess which can be used to hold jewelry or similar items. It would also make a good gift.
Pros:
Stable

Can fold like a book to save space or be protected from dust

Chargeable
Cons:
Not very adjustable

Dim lights

Frame can loosen with time
Summary:
3-panel mirrors will highlight every inch of your face, but due to the size they can be quite cumbersome and difficult to adjust. Other than that, the lights seem to be bright enough for most people and the LED lighting will last for a very long time. What more could you expect from a cosmetic mirror?
Gotofine LED Lighted Travel Makeup Mirror
This compact mirror is among the first of its kind. Now, you can do your make-up perfectly from any location. Thanks to this small lighted mirror, you never have to worry about fixing your make-up again. You will be able to perfectly adjust your make-up no matter where you are.
It is small enough to fit into your pocket or handbag, and is double sided. Both sides have different magnification strengths and can be used for any make-up emergency. It also comes with a microfiber cleaning cloth and a convenient travel pouch.
Pros:
Small and compact

Double-sided

Convenient and practical
Cons:
Light isn't on magnifying mirror

Doesn't last long

Separate stand can get lost
Summary:
This is one of the better portable lighted mirrors on the market, and allows you to fix any make-up emergency on the road. Unfortunately, that's all it can be used for, which makes it unpractical for every other aspect of life.
Floxite LED Lighted Travel and Home 10x Magnifying Mirror
Another travel mirror with great advantages. The aspect that sets this mirror apart from its counterparts is the fact that it folds to create a stand. This means that you have both hands free to apply make-up. The small size allows you to travel with it, and the LED bulbs will illuminate your face and never need to be replaced.
Pros:
Long lasting LED lights

Comes with batteries

Folds down to become smaller
Cons:
Can only be used for small areas of the face

Not durable

Magnification is very strong
Summary:
While it is a great mirror, it doesn't have the double-sided advantage of its peers. It is useful because it doesn't require both hands, but you need to get very close to it since it is so small. But the fact that you won't ever have to replace bulbs is very comforting.
Conclusion
Each of these mirrors had their merits. They all have advantages that make them the best in certain aspects, and not one of them is too alike. At least one of these mirrors will be what you're looking for, but there is one that should be crowned as the best.
And that one is the 10x Magnifying Lighted Makeup Mirror sold by Upper West collection. This mirror was chosen because it can be used anywhere. It also has dual magnification and LED lights. It has a metal frame which makes it both strong and attractive. Overall, it could be your best bet if you're looking for a mirror that has the best general advantage.
This does not mean that it should be your choice since another mirror may have already caught your eye. At the end of the day, the final choice must be yours. Just keep in mind that LED lights are the best, magnification is great but not essential and that it is your choice to make.