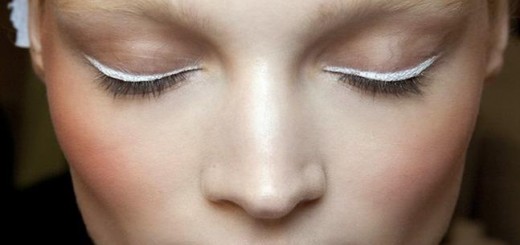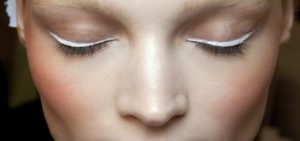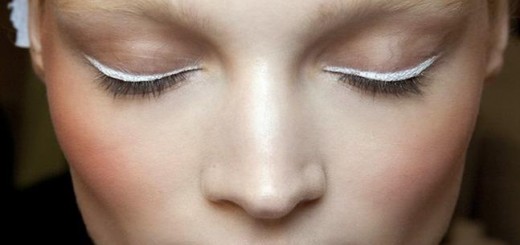 White eyeliners don't get nearly enough hype, which is actually a good thing because it's good to keep some hacks all to yourself. The beauty world has been singing the praises of black gel liner for what seems like forever, while white eyeliner has just been there – quietly doing its thing for those who know its potential. And boy, does white eyeliner have so much potential and not just for the eyes!
With so much choice on the market, it can be difficult to the find the best white eyeliner, thankfully we've done the hard work for you.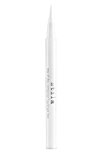 When we think of white eyeliners, we tend not to think of them in felt-tip format but why not? After all, a felt tip makes for an easy-glide formula and allows for total precision when applying. In fact, this felt-tip brush ensures no smudging or feathering during application and when used for countering or priming, the formula is easy to blend out.
The best thing about this liner is the sheer control it offers when really getting into corners or when wearing on the top lid as a liner. Unlike a pencil, it's really precise and leaves a steady line that can be blended as much as you like. If you opt to apply it as an eyeliner to top lashes, it offers sheer control which means you won't suffer from the dreaded white lashes.
The bright white color goes a long way to lifting tired eyes without the dreaded 'tip-ex' effect that lesser quality white liquid liners are guilty of offering.
Best for: Top lid definition

How apt that this liner is called Milk because it totally epitomizes the color – not too bright white that it could be accused of being fake and just on the warmth enough spectrum that it neutralizes redness and adds vitality. It's also in a matte, white makes for a smooth application that doesn't drag the eyelid, however, the pencil is large enough that you can also apply with your finger. In fact, it's the finger application that means this liner can lead itself perfectly to countering and concealing dark under eye circles.
The clever little thing about this liner is its versatility in going from liner to eyeshadow and back again. It's really up to the user if they want to cover the whole lid, and if you do, you can work to leave it as a matt liner that works to emphasise the eyes, use it as a base and build dimension on top, or use as a primer to give your shadow some more staying power.
The NYX Jumbo Eye Pencil Shadow should be in everyone woman's handbag because there are very few beauty emergencies it cannot fix.
Best for: Hiding a multiple of sins.
 jane iredale

Eye Pencil

This one is a white eyeliner as you would most commonly expect to find it – a compact pencil format with a sharp application. However, what makes this one stand out is the total promise of a cruelty-free supply chain so you can shop totally guilt free.
This nifty little liner is really easy to apply and because it's pencil, you can decide on whether the pencil has a sharp or rounded application. The color is bright white, which is flattering to all skin tones.
This eyeliner is more geared towards the function of brightening the waterline it's formula is specially created for definition and hold, even against tears. In fact, apply this to your waterline and it really will hold all day, giving the appearance of bigger, fresher eyes.
There is no other beauty product on the market that can make you look like you slept for 12 hours, even when you've been up all night.
Best for: A subtle application along the waterline.
What is white eyeliner pencil?
Unsurprisingly enough, it's a white eyeliner in pencil, gel or liquid format. However, unlike any other eyeliner, it's got magical powers in terms of versatility. Don't believe us?  Then just check out all the uses for white eyeliner pencil.
White eyeliner in the waterline
Use a white eyeliner pencil in the inner corners of your eyes and waterline to instantly to make your eyes look bigger, fresher and much more awake.
How to use it – Literally apply the eyeliner into the waterline of your lower lashes for a quick wake-up effect. If you are in need of an extra boost, do the top waterline too and reinforce each corner.
Eyeliner
Want an instantly refreshing look? Why not opt for white eyeliner exactly the same way you would dark? Blend it or flick it, the options are plenty but know that white is a great way to mix things up, especially in summer time. If white is too extreme for you, put eyeshadow over the top – using the liner just as a way to awaken the appearance of eyes.
How to do it – Just use as you would your go-to dark liner.
Countering, concealing and highlighting
Beauty products are too often labeled as being for one thing and then kept it that box, which is a pity because the biggest fun can be had by really experimenting with your products. After all, without experimenting it would never have been discovered that white eyeliner pencil makes an excellent highlighter and contouring tool on cheeks, under eyes and under-brows.
How to use it – Countering, concealing and highlighting is a way of bringing attention to areas and taking attention away from others. The philosophy is that light brings attention by cancelling out dark.  You can use a white eyeliner as you would a highlighter, on your cheek bones or even as a concealer, canceling out dark circles under the eyes.
Eyeshadow Primer
Have you ever got excited over an eyeshadow only for the color to totally lack depth, no matter how much you prime it? Get with the beauty world's most-kept secret and apply white eyeliner as a primer all over your eyelid. Not only will the eyeliner instantly show up the eyeshadow, it will also give the shadow something to grip on to – ensuring it lasts all day.
How to use it –  Before applying your eyeshadow, cover the whole eye with white liner and blend to create an even surface. Then simply cover the lid in eyeshadow.
Three of the best white eyeliners on the market, each with a different purpose but with each ultimately serve to make your eyes look bigger and more awake.