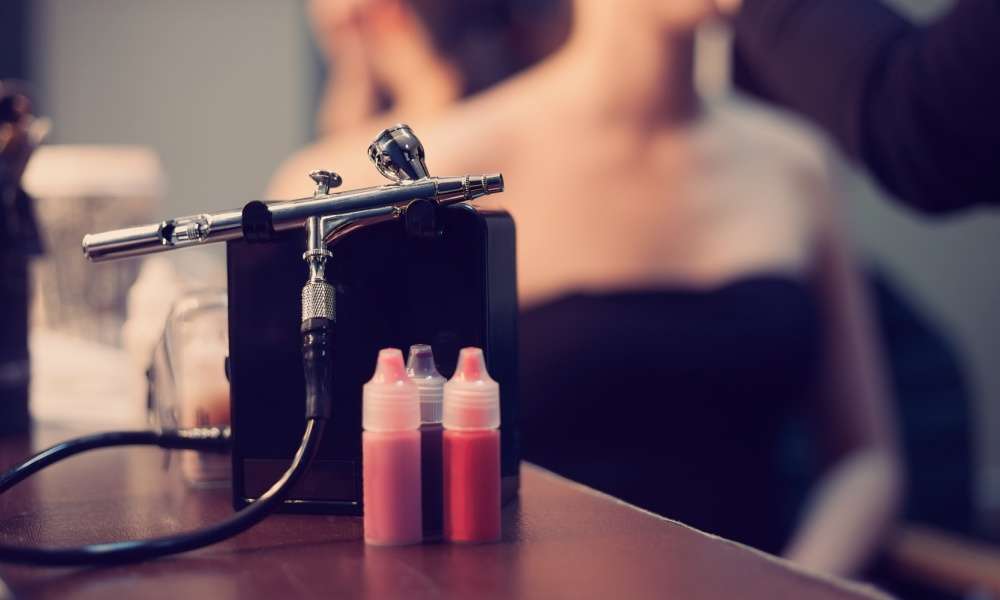 When it comes to airbrush makeup, it also helps to get the best of the best in the industry. Whether you are just starting out or already a professional, if there's one brand to trust, it's Temptu. The Temptu 2.0 Deluxe Airbrush Makeup Kit (Black) gives you everything you need for a flawless, airbrushed makeup look.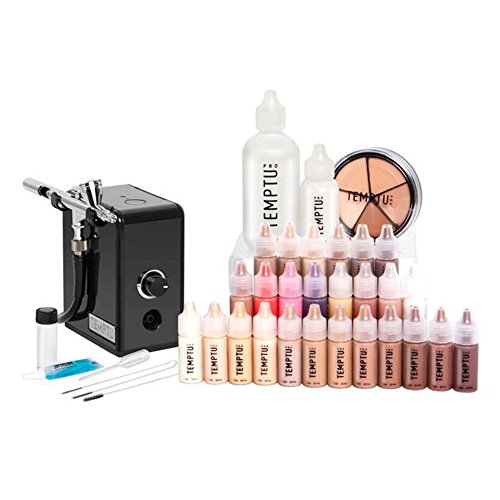 Features
Airbrush 2.0 compressor in black
SP-40 airbrush – single action
12 silicone based foundations
8 containers of blush and highlighter
6 containers of contour and bronzer
Concealer wheel
1 oz. silicone-based primer
4 oz. silicone based cleaner
Airbrush cleaning kit included
Pros
If you're the type that likes the best of the best, Temptu is for you. The brand has been making waves in the industry for so many good reasons. The Temptu 2.0 Deluxe Airbrush Makeup Kit (Black) has many appealing qualities. For one, the makeup in the set is all silicone-based.
Silicone-based makeup is known to last very long with virtually no need for touch ups. If it's compatibility you are unsure of, there's no need to be hesitant as all the makeups in the Temptu line are compatible with one another and with the airbrush system. Your makeup will apply flawlessly and look great for a long time.
The foundation included in the set is complete and ranges from very light to dark. Whatever skin tone you have, you'll find a foundation that matches in the set, with no need to look for another one outside the set.
It also has a wide variety of blushes and contour shades so you get to try different looks and not just one, compared to what other brands have to offer. The concealer included also covers different skin tones.
Cleaning the Temptu 2.0 Deluxe Airbrush Makeup Kit (Black) is easy and everything you need is already included. The kit includes the cleaning set and the airbrush cleaner.
The compressor is powerful and has a fully adjustable dial so you can choose your desired pressure for air flow. This comes in handy when you want to achieve different looks.
The compressor is designed to blend in with your surroundings. It looks sleek and small yet powerful and delivers the look you want. It also comes with a single action airbrush stylus which is pretty easy to learn.
Cons
The greatest setback to the Temptu 2.0 Deluxe Airbrush Makeup Kit (Black) is the price. It's a bit too steep for beginners. If you're only going to use this kit for personal makeup, it's not worth it. You'll have extra foundations you won't even get to use.
However, if you're in the business, you'll be able to experience a return on your investment very soon. Your clients will be happy with the results from the Temptu.
Also, for the price you'd most likely expect more inside the kit like what other brands offer. While this Temptu kit already offers a good set, other brands include tools you'll need for eyeshadow, eyebrows, and eyeliner and and they still don't reach the price point of the Temptu.
Verdict
The Temptu 2.0 Deluxe Airbrush Makeup Kit (Black) is better suited for those with intermediate or professional airbrushing skills and preferably those who work in the makeup industry. Even if you're willing to shell out the price, it won't be ideal for personal use. The Temptu 2.0 Deluxe Airbrush Makeup Kit (Black) gets a 4.5 out of 5.
Final Comparison
If you're on a budget but want to get an airbrush makeup kit that covers all skin tone ranges, then you'll like the Complete Professional Belloccio Airbrush Cosmetic Makeup System. It is nearly half the price of the Temptu 2.0 Deluxe Airbrush Makeup Kit but includes 4 shades each for fair, medium, tan, and dark skin tones.
It also includes an anti-aging moisturizing primer, blush, highlighter, bronzer, concealer, blending sponges, makeup finishing spray, an instructional DVD, cleaner, and a carrying bag in addition to the airbrush and compressor. It's a pretty good deal and the Belloccio line of makeup is water-based, so it's very lightweight and allows your skin to breathe.
If, on the other hand, budget is not a problem, another option is the Dinair Airbrush Makeup 32pc Deluxe Kit. This set is just as complete as the Temptu 2.0 but with more added bonuses. You not only get a cleaner, but a deep cleaner as well.
There's also an added 3 more paramedical foundations aside from the glamorous line. You can also use the makeup included for eyeshadow, liner, and brows together with the stencils. There are also four adjuster shades and one moisturizer. You get to enjoy one year warranty and the customer support is excellent.