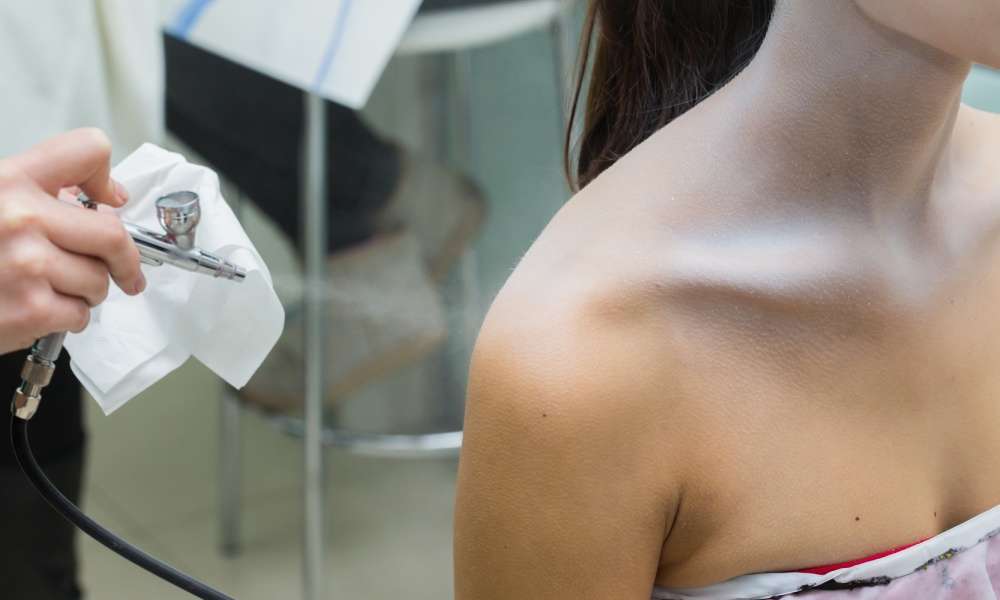 Are you planning your wedding? Or perhaps you're attending an important event or have a shoot booked and the date is drawing near. You're probably going through your list of makeup artists and considering choosing one who uses airbrush makeup.
What is airbrush makeup? How does it differ from traditional makeup? These are some of the questions you might ask yourself when you first find out about this technique. However, the most important question to ask is whether or not airbrush makeup is for you.
What is Airbrush Makeup?
Airbrush makeup is exactly what it sounds like. It is makeup that is sprayed onto the skin rather than being applied with brushes, sponges, and fingers.
An airbrush is typically made up of 3 parts, (1) the powered compressor, (2) the medical-grade hose, and (3) the metal trigger action gun. These three parts work together to deliver a fine mist of makeup that is able to flawlessly cover uneven skin, scars, and other imperfections.
How is Airbrush Makeup Done?
Airbrush makeup uses foundation and other cosmetics specifically formulated for the technique. The airbrush artist can mimic your natural skin tone by mixing foundations so your natural skin shines through.
The artist also alters the intensity of the application by changing the air pressure. This allows for light, heavy, detailed, or broader makeup applications that's useful for foundation, eye makeup, contouring, or for covering up large parts of the body.
What are the Uses of Airbrush Makeup?
If you think that airbrush makeup is a recent innovation, you're mistaken. The technique of airbrushing makeup was first used as early as 1959 on the set of Ben Hur. Since then, the technique has been mastered and there have been more uses discovered for the technique.
It can be used for a natural-looking finish for special events, films, and photoshoots. With the advent of high-definition video and television, the slightest mistake or wrong stroke can be seen to a makeup artist's horror. This isn't a problem with airbrush makeup because a natural, even, and sheer look is sure to be achieved.
Airbrush makeup can also be used in high fashion shoots where the whole body is made up. Additional special effects and fantasy can be added on through stenciling or freehand afterwards.
Airbrush works wonders in covering the five o'clock shadow in men. It is also able to flawlessly cover up tattoos without looking cakey.
What Benefits Do You Get to Experience with Airbrush Makeup?
The benefits of airbrush makeup are numerous. First, the wearer barely notices that he or she has makeup on because the technique itself produces a thin, light layer over the skin. When used with the right formula, airbrush makeup can last for as long as 24 hours smudge-free.
The makeup won't transfer onto clothes and won't disappear after numerous hugs and kisses. Some waterproof formulas even hold up to immersion under water.
The airbrush technique of applying makeup is also considered more sanitary as the artist or the tool never comes in contact with the skin, unlike with traditional makeup. Lastly, application is quite fast and the look is flawless.
What are the Drawbacks to Airbrush Makeup?
The most obvious is the stark difference in price compared to traditional makeup. Airbrush makeup will cost more because of the tool and training involved.
If you want to achieve an airbrush finish but don't have the budget to book one, you can look for highly skilled makeup artists that can mimic the look of airbrush makeup using traditional tools and technique.
You also want to make sure that you're booking your airbrush makeup session through a certified and trained makeup artist. There is a difference in result when you get your airbrush makeup session done by an amateur versus a professional. You might want to view before and after photos of previous clients as well as the artist's reviews before booking.
Bottom Line?
Booking with an airbrush makeup artist doesn't have to be the norm. Great and flawless makeup can still be achieved using the traditional method when you have a skilled makeup artist that uses the right tools and the right combination of products.
The decision to get airbrushed makeup will have to depend on the importance of the event, your personal preference, and your budget. If you've never tried it, it won't hurt to try and see for yourself the difference from traditional makeup.