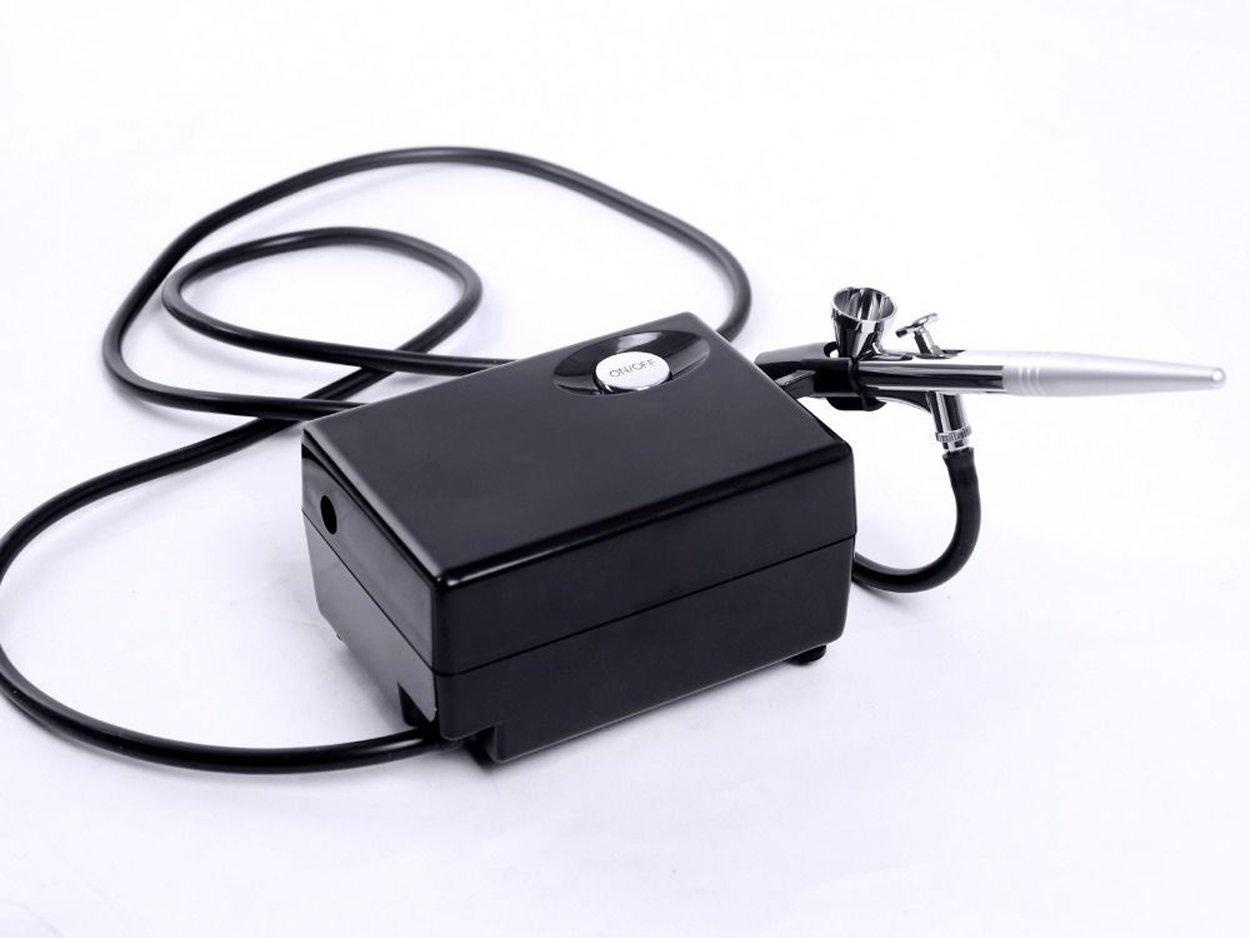 Selecting the right airbrush compressor can be a bit of a pain. Yes, they are essential to the airbrushing process, but there is so much that you need to know before you can just go on your merry way. This is what makes it the least pleasant aspect of the entire process.
Not only that, but it is also the most expensive part of the whole exercise. Many people dread buying a new airbrush compressor, but you don't have to. That's because we have set up this shortcut to help you find what you need.
In this buyer's guide, we will help you answer three questions, namely:
How much capacity is needed?
Should I buy a noisy or silent compressor?
Will electrical power be a problem?
So, let's get started.
How Much Capacity is Needed?
To calculate the total air volume needed all you must do is look at your gear. How many spray guns and airbrushes will you be using at the same time, of course one after the other doesn't count. This will give you your total air volume needed. That is the amount that you should use, no more, no less. If you get anything that pumps less than that number, then you will have a massive problem on your hands.
The next thing that you have to consider is the duty cycle. This is normally given in a percentage, which is the percentage it should run of every hour it is used. You need to follow this recommendation if you want your compressor to last for a long time.
The duty cycle will work something like this: 50% Duty Cycle= 30 minutes running for an hour of use.
Do I need a Noisy Compressor?
Most compressors tend to be very loud. But you can manage that noise in a few simple ways. You could use it in a secluded place, and only use it where people won't hear it. This could be in your workshop or in your garage or even at a good friend's place. There are a few things to keep in mind with this solution though.
Even though it is out of sight, you still need to be careful about the upkeep of your compressor. Don't leave it exposed to the elements, especially if you want it to last for a while. And ne mindful of the noise pollution. Your neighbors will not thank you for waking them up at all hours of the night just because you want to use your compressor.
You could also build a noise box around the machine, if you're handy. Just remember to let the machine breathe. It is an air compressor, it needs air.
The simplest solution is to just buy a silent air compressor. They aren't noisy at all and can range from a low rumble to something a bit louder than your refrigerator. It's better than waking up your neighbors or hitting your thumb with a hammer while making a noise box. They are also smaller and more portable than bigger and noisier compressors. But they can be much pricier too.
The final solution is probably the best one- use compressed gas.
Compressed gas is extremely quiet, it is very small and can be transported with ease. You don't need power since the tank is already full when you get it and compressed gas has very low upfront costs. Sounds wonderful, doesn't it?
BUT…
It isn't that simple. Compressed gas has three flaws. You will need to refill the tank regularly. If you use the tank in an enclosed space with no ventilation, you could suffocate and if you handle the canister roughly, you could knock of the head and turn your tank into a volatile torpedo. Thankfully, two of these flaws can be avoided with ease, making compressed gas a good alternative to a noisy compressor.
What if Power is an Issue?
If, for whatever reason, you can't find power to run your compressor, you could do one of two things. Firstly, you could buy a generator for your compressor. This can be loud, so you could also just use compressed gas which doesn't need any power.
Helpful Tips:
An air tank is a good thing. It might cost more but it will keep your compressor running longer.

Compressors need an air filter. This won't come with your compressor and so you will need to buy one. An air filter or air trap will filter out any moisture in the tank. If the moisture from humid air mixes with the dry air of your compressor, it could severely impact your paint. If you live near a body of water or a humid area, you might need to do more than just buy an air trap. You won't have this problem if you use compressed gas.

You need to choose between an air regulator and a bleed valve. Both control how much air goes into your tools. But they do so differently. A bleed valve bleeds air, but an air compressor is like a traffic light. It systematically regulates the air needed and is more controlled.
Product Reviews:
You are now more equipped to find your ideal air compressor now that you know what you need to look for. Let the search begin!
Iwata-Medea Studio Series Power Jet Pro Double Piston Air Compressor
This compressor has a 1/6hp and 1-70 PSI maximum pressure. It has a ½ gallon storage tank with twin air regulators for controlled air pressure with quick disconnects.  The compressor also has built in airbrush holders for your convenience.
It also includes mounted twin pressure gauges with moisture filters. This makes it an ideal compressor for humid areas. The compressor comes with adapters and an air hose so it can be attached to any airbrush brand.
Pros:
Can be attached to any airbrush brand

Quiet

Easy to use and durable
Cons:
Might have a few cosmetic defects

Very big

Gets warm after extended use
Summary:
If you are looking for a portable compressor, then this is not the product for you. It is massive, but it is beautifully designed. The machine itself works very well and lasts for a long time. It may not be the most aesthetically pleasing device due to a few cosmetic defects (like massive stickers plastered on the sides) but other than that, it wouldn't be a mistake.
Badger Air-Brush Co. TC910 Aspire Pro Compressor
Advertised as a quiet, maintenance free, portable compressor, it certainly does seem to have its advantages. It boasts an automatic shut-off diaphragm compressor, and adjustable air regulator and a pressure gauge which could be quite useful. It has a one gallon built in tank as well as a moisture filter and airbrush holder.
It also has thermal overload protection, ETL certification and has 1/5 horsepower and a maximum pressure of 57 PSI.
Pros:
One-year warranty

Quiet and consistent

Durable
Cons:
On/off switch in an inconvenient location

Regulator snaps off easily

Poor packaging
Summary:
This compressor comes with a sturdy outer case which protects it from damage, allowing it to last longer. It must be noted that all compressors can be dangerous to inexperienced users, so don't use it unless you are confident in what you're doing.
Iwata-Medea Studio Series Smart Jet Single Piston Air Compressor
A compressor that has 1/8 horse power and a maximum PSI of 1-35. It has a mounted and fully adjustable air-pressure gauge. A moisture filter is included to prevent pulsation and the compressor automatically shuts itself off when it is not in use. The compressor also has a bleed valve air flow adjustment to lower the air pressure.
Pros:
Quality and compact

Auto shut-off

Comes with hoses and regulator
Cons:
Smart jets don't have a true pressure adjustment gauge

No regulator

Must bleed moisture gasket to obtain lower PSI
Summary:
The biggest advantage about this compressor is that it seems to do exactly as advertised which is a massive advantage. Another big draw is the auto shut-off features. Some people do have a problem with the bleed valve which does not work as well as an air flow regulator. But if you don't have a problem with that, the you should enjoy this compressor.
Iwata-Medea Studio Series Sprint Jet Single Piston Air Compressor
This compressor has a 1-35 PSI maximum operating pressure with a mounted air-pressure gauge with a moisture filter to prevent pulsation. The bleed valve air flow adjustment will help t lower pressure. What makes this compressor different from the Smart Jet compressor is the fact that it doesn't come with an auto shut-off feature. This allows you a choice within the Iwata-Medea Studio brand if you're after the brand's product.
Pros:
Quiet and dependable

Great quality that lasts for years

Doesn't heat up quickly
Cons:
Might need to add a second separator on the water filter

Slight problems with the PSI

Lower than stated maximum PSI
Summary:
It is hard to find any serious complaints about this compressor. It is quiet and does the job very well. The only complaint is that the maximum PSI might be lower than stated, but this might be a problem with a few models. Other than that, it does the job well and is very good quality that if taken care of will last for a very long time.
Paasche D3000R 1/5 HP Compressor with Tank, Regulator and Moisture Trap
A powerful compressor with 1/5 horse power piston and tank, it also includes a regulator with a moisture trap for if you live in an especially humid area. It delivers between 20-40 PSI depending on which airbrush you use. It is incredibly quiet with an operation at 47 dbs. It also includes an adapter for 1/8'' BSP hoses.
Pros:
Keeps a good, steady flow of air

Pressure regulator makes it incredibly easy to adjust the pressure.

Automatic shut-off
Cons:
No detailed instructions

Prone to overheating

May take a while to learn how to use it
Summary:
This compressor does the job well. It is also worth noting that although some customers have reported problems, the company usually gets to them quite quickly and solves the problem. It would be better if the company included a more detailed set of instructions with the product though. It is true that air compressors are easy to use, but since it has extra features, a more comprehensive instruction guide would clear up a lot of confusion for users.
Master Airbrush Multi-Purpose Professional Airbrushing System with 3 Airbrushes, 6′ Air Hose & Airbrush Holder, Training Book
This compressor includes an entire versatile system that is ideal for a variety of uses. The compressor comes with three master air brushes at different sizes and nozzles for different uses. The compressor itself is a professional high performance single-piston air compressor with an air pressure regulator as well as a gauge and water-trap filter.
The set includes a 6-foot braided air hose with 1/8'' fittings. The compressor mounted air brush holder also holds two airbrushes, allowing you to switch between brushes with ease. You also receive a How-to-airbrush manual and guide booklet provided by the manufacturer.
Pros:
Comes with three air brushes

Cost effective

Comes with a manual which makes it great for beginners
Cons:
Not for professional use

Lower quality

Spring and nozzle are difficult to connect
Summary:
This is a good starter kit for hobbyists. If you don't use it for long periods of time and are just starting to get familiar with airbrushing, then this would be the ideal kit for you. It includes a whole range of features that would be great to start out with. However, if you use it every day or for more professional reasons, then this would not be a very good option for you.
Once you have gotten the hang of airbrushing, then it might also be a good idea to upgrade, since the machine does have a few limitations that will become frustrating later. It also does not seem to last very long.
Conclusion
Once you know what you are doing, it becomes easier to search for your ideal compressor. True, it can be a bit of an uphill battle, but when you receive your well-chosen compressor all the research will have been worth it.
In this guide, we have looked at what you need to know before buying a compressor, as well as six of the best compressors available on the market. Each one of them had their merits as well as their demerits, and it is up to you to decide what you want from your compressor and which drawbacks you're willing to live with.
There is one compressor that works well in all areas with the least number of drawbacks and that is the Iwata-Medea Studio Series Sprint Jet Single Piston Air Compressor. It does the job well and is easy to use.
It is quiet and sturdy, and paints without pulsating. It is also dependable and will last for a long time. The only drawback is the lower than stated maximum PSI which might be a problem with some models, but not all of them. It is beautifully designed and will always get the job done.
If that isn't your top choice, then just remember what to look out for besides your own preferences.