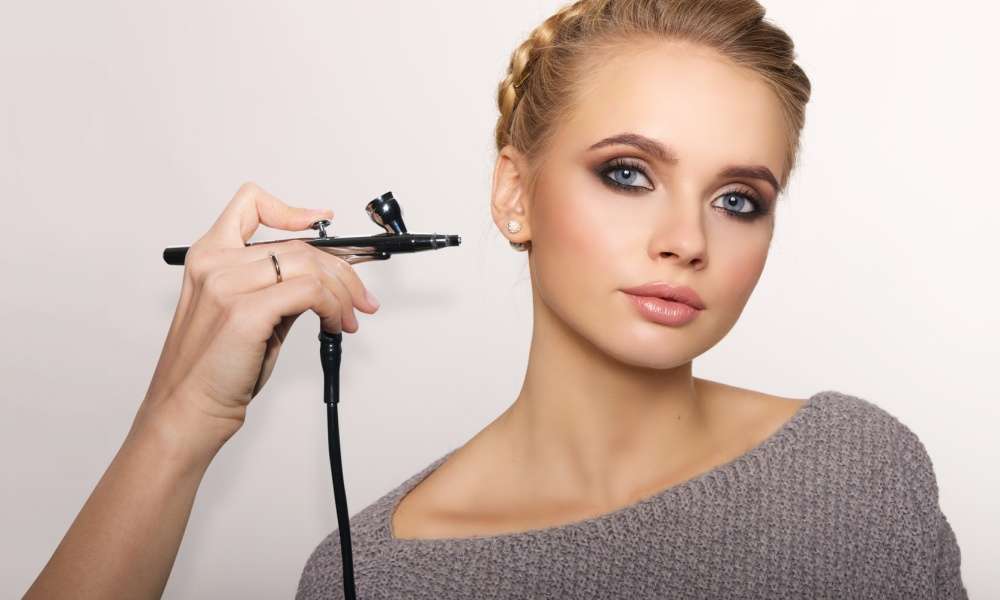 It used to be that only top professionals and elite celebrities were using airbrush foundation to achieve a flawless makeup look. Now you can get this same technology in your home. There are different airbrush formulas on the market to choose from. They are designed to be safe on your skin, provide your ideal amount of coverage, match your skin tone perfectly, and they are easy to apply as well.
It's important for you to find the best airbrush foundation for your skin type.
How do You Choose the Best Airbrush Foundation for Your Skin?
Whether your skin type is normal, oily, dry, combination, or mature, you want an airbrush foundation that provides great coverage, is safe to use on your skin every day, is easy to apply, won't cake or clog, and that it lasts a long time throughout the day. Not every foundation formula is made the same, so let's look at some key factors to consider.
Water Based vs. Silicone Based
Water based foundations are more liquid-like and provide a sheerer coverage. They also tend to be healthier for the skin. Silicone based foundations last longer, and are better for different types of environments like dry or humid. But sometimes the skin may be allergic to silicone.
The Coverage Type
When going for a more natural look, you'll want a sheer, lightweight airbrush foundation. Matte formulas provide a heavier coverage, which is great if you are looking for a foundation that can also double as a concealer.
Your Exact Shade Match
Some foundations can blend together, creating a customized shade that you can match perfectly to your skin tone. Others are not meant to blend or don't work well when blended.
Long Lasting Foundation
It's not as convenient to reapply airbrush makeup as it is regular foundation, so you want a long-lasting formula. It should last at least 12 hours.
Applying airbrush makeup uses a specific airbrush machine. You can learn how to use it in this informative video:
Get the coverage you want and easily put airbrush makeup on by following these simple steps.
Airbrush Foundation Reviews
Belloccio's Professional Cosmetic Airbrush Makeup Foundation
This airbrush foundation from Belloccio comes in seventeen colors, and each one is packaged in a ½ ounce bottle. The formula is water-based and is applied in a fine mist that you spray on your skin. It sits on top of your skin without caking or clogging pores. This is light and feels like you're not wearing makeup. Being hypoallergenic, it's also paraben free, oil free, and fragrance free, which is great for sensitive skin. You can also use it with airbrush systems.
Pros:
Made in the USA.

Also works as a concealer to cover up redness, discoloration, freckles, tattoos, rosacea, age spots, and other imperfections.

Can also be used as a tanning foundation to darken skin.

Long lasting without frequent touch-ups.
Cons:
Makeup shades might be inaccurate and too dark.

Is less pigmented than other brands.

Texture is a bit thick, clogging the airbrush machine, so you might need to add water.  
https://www.amazon.com/Belloccios-Professional-Cosmetic-Airbrush-Foundation/dp/B0064EJ520
Boots No7 Airbrush Away Foundation
This Airbrush Away Foundation from Boots comes with a bulb applicator to dispense out a few drops of foundation. You squeeze it onto the back of your hand and then use a foundation brush (sold separately) to blend onto your face. Before use, shake the bottle in order to mix the foundation and provide even coverage. This makeup comes in a one ounce bottle. It doesn't block pores and is also hypoallergenic, coming in eight colors.
Pros:
Can be used as a concealer as well.

Reduces wrinkles and improves skin tone.

Fragrance free.

Contains optical blurring powders to provide a great color.
Cons:
Can be drippy due to the dropper applicator.

Can stain clothing and not come out of fabrics.

Can be too thick to go through an airbrush machine.

Doesn't contain sunscreen.
https://www.amazon.com/Boots-Airbrush-Away-Foundation-Ivory/dp/B01AZYWV2A/?th=1
Dinair Airbrush Makeup Foundation
Dinair Airbrush Makeup Foundation creates a flawless, natural look. It lasts up to 18 hours, resistant to sweat and activity. This airbrush makeup is for all skin types, including dry, oily, combination, normal, and sensitive. After applied with an airbrush machine, it sets on contact and doesn't transfer to clothes or skin. The formula is water based and doesn't contain any oil, silicone, or paraben chemicals. There are twenty shades to choose from to match your skin tone. It comes in three sizes – 7.5 ml, 15 ml, or 35 ml bottles.
Pros:
Is an all-in-one formula that includes primer, concealer, foundation, and powder.

Made in the USA.

Gives you natural, light matte coverage for a 'no makeup' look.

No need for touch ups, brushes, or sponges to blend.
Cons:
Has a higher price point than other brands.

Might not work with any airbrush guns besides the Dinair one.

Colors might not match your skin tone.

Darkens on your skin after being applied.
https://www.amazon.com/Dinair-Airbrush-Makeup-Foundation-GLAMOUR/dp/B00Q3JTJ04/
Aeroblend Airbrush Makeup
There are fourteen colors to choose from with this Aeroblend Airbrush Makeup. It is water based and also hydrates the skin, like a moisturizer. The foundation formula is safe for all skin types from oily to very dry. It's also free of both fragrances and parabens, while adding beneficial ingredients like kaolin, lavender, and jojoba. It's also long lasting for more than 8 hours. The soft focus pigments give plenty of coverage for even high definition use. It comes in a 30 ml / 1 ounce bottle size.
Pros:
One bottle lasts about 4-6 weeks with daily use.

Excellent as a concealer as well, for redness, dark circles, and skin discoloration.

Very lightweight and works well in an airbrush machine.
Cons:
Might last less than the 8 hours, more like 4 hours.

Not as good coverage in a hot and humid climate.

Need to shake bottle vigorously to get the right color, otherwise it's too dark or too light.

Doesn't blend as well as other brands.
https://www.amazon.com/Aeroblend-Airbrush-Makeup-N30/dp/B00PEXDZDM/?th=1
Luminess Air Airbrush Matte Foundation
Optimal makeup coverage with a flawless look is what this Luminess Air matte foundation delivers. It's water based and safe on all skin types without clogging pores, and is free from oil, alcohol, parabens, or fragrance. This makeup is long lasting, for up to 18 hours. It comes in twelve colors. Safe for wear every day, the bottle size is 16 ml / .55 fluid ounces and lasts for approximately 2 months.
Pros:
Lightweight and medium-to-full matte coverage.

Can be applied in 5 minutes or less.

The formula is all-in-one and includes concealer, primer, foundation, and powder.
Cons:
Is meant only for the Luminess Airbrush machine, not any other type.

Has to be shaken for 30 seconds before application.

Should be mixed with water before applying.

Bottle is prone to leaks.
https://www.amazon.com/Luminess-Air-Airbrush-Foundation-Finish/dp/B002WJVJWK?th=1
Temptu Pro Silicon Based Foundation
A silicone-based formula sets this Temptu airbrush foundation apart from other brands. It's long lasting and great for wearing all day. The formula is free from oils and it's also hypoallergenic and safe on all skin types. You can customize the color to suit any skin shade, too. Each bottle comes in a ¼ ounce or 1 ounce size. It comes with an applicator tip for blending, and it stays on your skin without melting or drying. A little goes a long way, so it lasts a long time.
Pros:
Excellent in either very dry or very humid environments.

You can wear this airbrush makeup even through sweating or swimming.
Cons:
Needs to be used with an airbrush machine that specifically takes silicone-based makeup.

Might be too thick and oily for airbrush machines.

Not easy to blend colors for custom shades.
https://www.amazon.com/Temptu-Pro-Silicon-Based-Foundations/dp/B004DFDBKY/
Belloccio Fair Color Shades Airbrush Makeup Foundation Set
You get a set of five foundation bottles in this Belloccio Airbrush Set. The colors are for light skin tones and include blanc, vanilla, alabaster, and buff. It also comes with Belloccio anti-aging moisturizing primer for use under foundation. This makeup is tested by dermatologists and recommended. It's free of oils, fragrances, and parabens, and it won't clog pores. Each bottle is 15 ml / 0.5 fluid ounces.
Pros:
Has three warm yellow-based shades and one cool pink-based shade.

Is a complete kit for a lower price than if items were purchased separately.

The formula is silicone and water based, to apply in multiple layers to achieve the coverage you want.

Colors can be mixed to get the right shade.
Cons:
Not recommended for fingertip or sponge application. Only for airbrush machines.

It doesn't dry as quickly as other brands.

Coverage is sheer, so more product is needed if using as a concealer.

Has silicone, so is not as allergy-free as water-based formulas.
https://www.amazon.com/Belloccio-Shades-Airbrush-Makeup-Foundation/dp/B006E920B8/
Conclusion
All of these foundations have great qualities, but the best one is the Luminess Air Airbrush Matte Foundation. It is a water-based foundation that provides a medium-to-full coverage, so it acts like a silicone-based formula. It's great for all skin types, is easy to apply, and lasts for at least 18 hours. You can blend different colors to match your skin tone. It's made to go with the Luminess Airbrush Machine exclusively, but it does work perfectly with the right technology.
The Luminess Airbrush Foundation is a safe, easy, and long-lasting choice for everyday makeup wear.