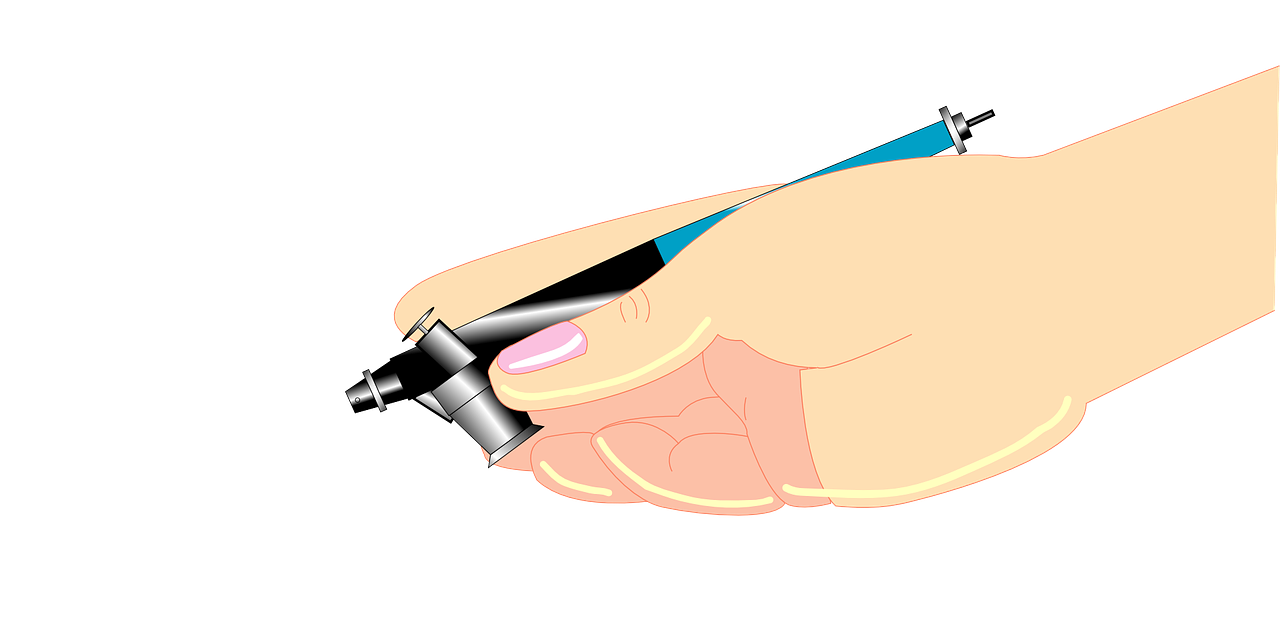 Forget about makeup application as you know it, throw away your brushes and sponges, there is a new way to apply your foundation for the most flawless finish ever. Airbrushing is the best way to achieve an even, all over finish, that puts you in control. This is because, with an airbrush, you can control the level of intensity – from a tinted moisturizer to all over coverage and concealing. However, even the most dedicated followers of beauty might not be up to speed on airbrushing skills, which is why we've put together this tutorial on everything you need to know on how to use an airbrush and transition to an airbrush master.  So, whether you are airbrushing at home or having it done by a professional, you can ensure your finish is flawless and long lasting.
How to use a Makeup Airbrush Gun
 Unboxing your airbrush
When you first unbox your airbrush be aware that it's going to look more complicated than it really is – that's even with the light and compact, cordless travel systems now widely available on the market. Don't worry, what seems to be an alien contraption is actually really easy to use.
Most airbrushes consist of a similar setup, which includes a stainless-steel gun and a hose which attaches to an air compressor. Makeup is then applied via the airbrush gun, through a specific needle sized opening. When you pull the trigger back, makeup is released and dropped into a cup towards the top of the gun and, as it flows through the hose, makeup is pushed through onto the skin.
Before you begin
Every time you use your airbrush, spray onto a tissue to ensure the machine is not blocked and that you have the exact tone you are looking for. Some experts, also suggest first spraying onto the back of your hand (which most mimics the appearance and texture of skin on the face) to ensure that shade and coverage is optimum.
Trial and error  
Make sure that you don't unnecessarily waste your makeup by practicing first with water. This will enable you to get a good feel for the gun and the different pressure settings. Begin by pinning your hair back, and spraying the areas that would usually have foundation. Remember to keep moving with a nice steady hand – if you stay in one place too long, the result will be 'hot spots', where makeup is thicker and does not dry as evenly as the rest.
Relax
It's really important that, when it comes to spraying near the eyes, eyes are kept loosely shut  – if you close them too tightly the result will be wrinkles which will be emphasized in the application. It can be difficult to keep your eyes closed when applying foundation on to yourself; so be sure to practice and relax!  
Circular movements
Anyone that has ever been familiar with a spray knows that the secret to a smooth application lies in circular movements. To create a circular finish, hold the airbrush perpendicular to your face or body and avoid spraying at an angle. The closer you go, the more concentrated the color will be.
Good Airbrushing Technique
When it comes to spraying, follow these rules until you master your own specific technique:
Cheeks – start at the hairline and work downwards towards the jawline. It's important to smile so that you can locate the cheekbones.
Nose – start from the top of the nose and use a small amount of product in a downwards stroke.
Chin – it's important to remember the chin and neck for even blending, to ensure this, spray under the chin about 6 inches away.  
Contouring and highlighting
Airbrushing is not just widely used for an even application, beauty lovers agree it can also lend itself wonderfully to contouring and highlighting special features. You can either work with specific contouring and highlighting products or, as some experts recommend, work with foundation that is two shades lighter than your go-to. To use your airbrush for contouring, first set your gun to low or medium pressure (low being optimum for beginners). Set up with no more than 6-10 drops of highlighting makeup (which have already been well shaken). When you are ready to apply the highlighter, position the gun 6-12 inches away from the face and use the circular motions described, ensuring that the same number of strokes (also known as passes) are done on each side. The trick is to get an even finish which is almost glowing and not cakey. Here is how to contour each facial feature:
Cheeks – starting at the top of the cheekbone, work upwards towards the hairline
Nose – start at the top of the forehead and spray down
Jawline – to add more dimension to the jawline, spray a small amount on the chin and under the chin.
When it comes to blush, beauty lovers agree that it's best to ensure that you apply it no lower than the bottom of the nose but no higher than your pupils.
Guides and shields use
Many airbrushing systems come with guides and shields which are specifically used for highlighting and contouring. Before you use these, always ensure they are totally clean and that you have positioned them on your face first to ensure they fit your shape.
Common Questions about Airbrush Makeup
What does the makeup feel like?
The makeup comes out much like a very fine mist, which feels quite weightless on the skin.  Since the application is extremely fine, the coverage ranges from sheer to totally full as you work to build it up. Take note that you will not experience instant coverage, like with traditional application methods, so be patient and just work to build layers.
Can airbrushing hide blemishes?
Airbrushing is typically used to apply foundation, so any correction of blemishes or dark pigments should be done with a concealer prior to the application. Also, remember that skin needs to be moisturized first to avoid makeup clinging to dry patches.
Can you use normal foundation?
It's best not to use normal foundation with an airbrush gun, it's consistency is too thick and won't feed through the gun. Airbrush makeup is specifically created for airbrush application, meaning it's thinner and with a more water-like appearance.
The main three types of foundation include water based, alcohol based and silicon based.
Water based – This is when the airbrush formula is already mixed with water. The effect is makeup that is matte in appearance, making it easy to build up coverage.
Alcohol based – This type of formula is frequently worn by celebrities during red carpet occasions because it offers epic hold. It is generally not recommended for everyday use due to its high alcohol concentration (which can damage skin).
Silicon based – silicone based is the formula made for those who want a more natural finish. It offers the appearance of being barely there, while feeling it too. The downside is it that some wearers report that it deepens during application, so a lighter shade is always recommended.
Are there any short cuts to getting an airbrush finish?
If you covet airbrush perfection without the hassle of the tool investment and maintenance, then good news – many brands including Sally Hansen, Dior and Sephora have come to the rescue! Airbrush foundation is now available in a can, much like the spray paints commonly seen on the market, that can be used and thrown away when finished.
Did you know?
Airbrushing makeup used to be exclusively reserved for Hollywood A-listers and brides to be but, thanks to the falling costs of tools and the wealth of tutorials on YouTube, this method of makeup application is now available to all.