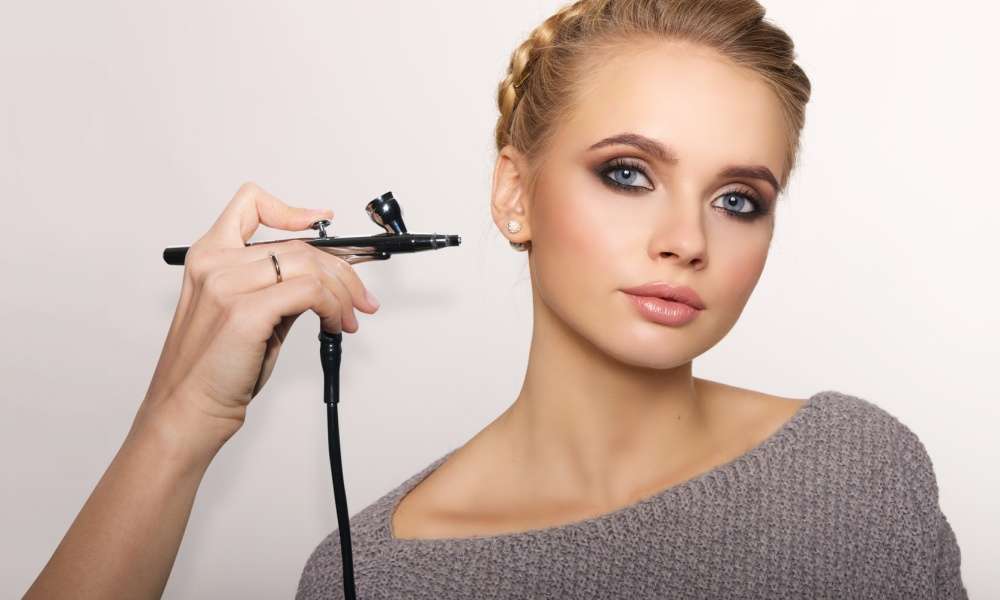 The airbrush makeup effect is highly sought after in films, for weddings, and even at sunless tanning salons and for good reason. Airbrushed makeup results in a stunning look with flawless skin. Many users have sworn it feels like they're not wearing makeup at all.
You're probably debating whether you're going to book an airbrush session or buy an airbrush kit for yourself or even if it's something that might work for you as a business. If you're not yet fully sold on the idea, try looking at some airbrush makeup before and after photos and the results will be enough to convince you.
What is Airbrush Makeup?
Before you get too far ahead of yourself, it's best to understand how airbrush makeup works and why it is so highly sought after in the cosmetics industry. Airbrush makeup is the name for the technique of spraying makeup onto the skin instead of using traditional tools like sponges, brushes, and fingers.
Practitioners use a power compressor, a medical grade hose, a trigger action gun, and compatible makeup for airbrushing.
The airbrush method can be controlled and adjusted for light application, heavy application, detailed or broad application, depending on the need. This can be done by a slight change in air pressure. This technique also makes use of specific makeup that is compatible with the airbrush system.
There are several different formulas including water based, polymer water based, polymer SD40 alcohol based, alcohol based, and silicone based.
What are the Benefits of Airbrush Makeup?
The benefits are numerous and for most far outweigh the cons. For one, you get custom blended foundation so you always have a match for your skin tone. Application through the airbrush system results in a flawless complexion that does not feel or look heavy. It also does not cake.
Another favorable benefit of using airbrush makeup is that it lasts the whole day and night with practically no touch ups needed, especially when applied correctly.
It can be sweat, smear, and tear resistant, depending on the formulation used. There are different formulations that can result in alcohol and oil free makeup as well as hypoallergenic makeup.
Lastly, it photographs beautifully and is flawless looking on video, even those recorded in high definition.
Airbrush Makeup Before and After
Other than customer reviews, airbrush makeup before and after photos are some of the best proof of the power of this technique. When you plan to book a makeup artist offering airbrush, look up his or her reviews as well as his or her portfolio of before and after photos.
Acne and scarring
If you suffer from acne and the resulting scars, no matter how severe, airbrush can do a great job of covering it up and making your face look flawless with the help of concealer and foundation. If done traditionally, makeup on acne skin can look thick and heavy. You will not have this problem with airbrush makeup.
Uneven skin tone or discoloration
Airbrush makeup can even out skin tone beautifully. The technique allows for lightweight application that can noticeably even skin tone. The fact that you can mix foundations to come up with the right skin tone for you is an added plus for airbrush makeup.
Light, flawless makeup
Even if you have no skin problems, airbrush makeup can do wonders. Your makeup will be light, but will still offer great coverage. Your makeup will not look caked or heavy. It truly is the picture of a "no makeup makeup look."
Mature skin
Putting makeup on mature skin can be challenging for some. With a properly trained airbrush makeup artist, even mature skin will look flawless with no caking at all.
Is Airbrush Makeup For You?
Now, the question you want to ask yourself is whether or not airbrush makeup is for you. If it's for daily makeup or even if it's for a special event that can last for a whole day, going for an airbrushed makeup look is a good decision.
If you simply want to try airbrush makeup first, there's nothing stopping you. You can ask your local makeup artist if they offer the service through a trial. It's the perfect setting for figuring out if you like the technique or not. Your own airbrush makeup before and after photo is the most convincing proof, after all.