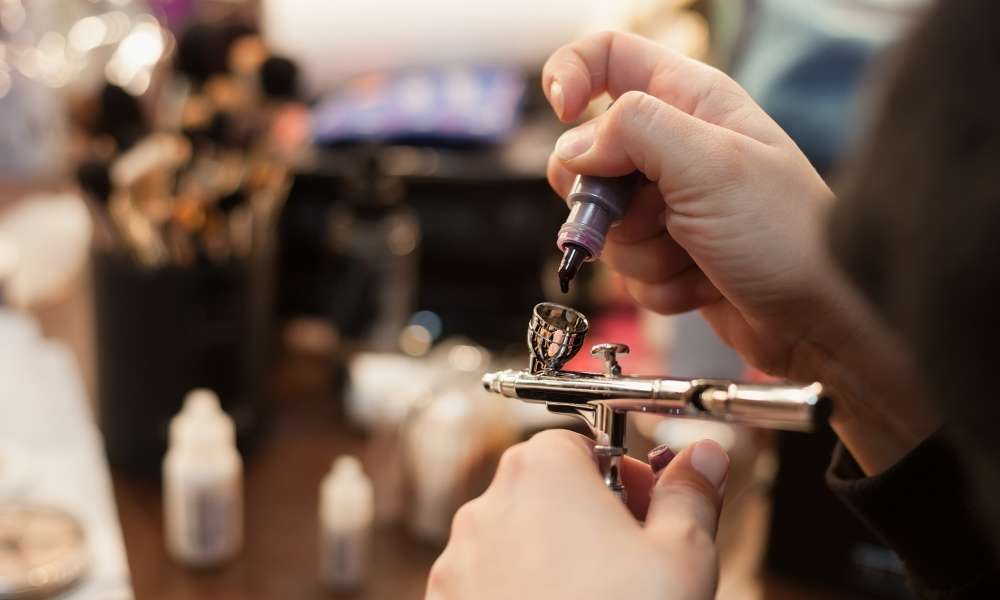 Finally, a makeup technique and tool that allows you to enjoy flawless makeup that lasts long hours into the day or night!
The Aeroblend Airbrush Makeup PRO Starter Kit provides you with more than just the basics to get started on airbrushing. It provides you with the complete professional kit. You have everything you need in different shades to get the look you're going for.
Features
16 water-based Aeroblend foundations for different skin tones
6 water-based Aeroblend airbrush blushes to choose from
1 water-based Aeroblend highlighter
1 water-based Aeroblend bronzer
Ultra-quiet compressor with fully adjustable power dial
Double action airbrush stylus to deliver very fine mist
Hose
110V AC plug
Directions and customer support
Pros
The Aeroblend Airbrush Makeup PRO Starter Kit is packaged in such a way that you won't have to buy anything else separately. It comes with 16 pieces of foundation ranging from light to tan.
Other brands contain only one blush ready to use, but the Aeroblend gives you six different colored blushes to choose from. It also includes one bronzer and one highlighter for your contour.
The Aeroblend makeup line is water-based. It contains no silicones, no parabens, and no fragrances. Even wearers with sensitive skin have no adverse reactions from the Aeroblend makeup line.
It has great pigmentation while still caring for the skin. It also feels weightless, is long wearing, colorfast, and appropriate even for HD use.
The compressor works quietly, so you won't disturb the other people in your home or your client's home as you're putting on the makeup. It has a fully adjustable pressure dial so you can achieve the power you want for the look you're going for.
The airbrush stylus is dual-action, so you have better control over the look you're going for. You can control the amount of makeup you want to spray, a lot or only a light mist. With practice, you'll be able to master the dual-action stylus to achieve flawless and natural looking makeup.
The best part about the Aeroblend Airbrush Makeup PRO Starter Kit is the price. With a total of 24 makeup pieces included in the package plus a one year warranty, the price you're getting it for is not bad at all. Aeroblend Customer Support is also great, so you get more than what you pay for.
Cons
The Aeroblend Airbrush Makeup PRO Starter Kit isn't exactly catered for beginners, but with a little practice, you can make it work and make it work really well.
First of all, it's a dual-action gun and has a higher learning curve than a single action gun. It's best to practice, experiment, research, and not give up when the product arrives and you're using it for the first time.
The compressor isn't chargeable, so you'll have to plug it in. If you're working in an area in your home or in a client's that doesn't have a nearby outlet, you'll either have to work in an area where there is one close by or simply bring an extension wire.
This water-based makeup will not work well with silicone-based primers because the makeup will slide right off. You can either use a water-based primer and moisturizer, or wear nothing underneath.
However, if you have dry skin, you'll end up with some dry patches, so a little bit of moisturizer before putting on makeup will work best.
The foundations included may not work so well on very dark skinned clients. If you have a darker complexion or you're putting makeup on a dark skinned client, you may have to purchase a separate foundation for it.
The kit also does not include a cleaner. Although it cleans pretty well with water, some kits of other brands do include the cleaner.
The price may be steep for some, but compared to the number of products you actually get in the kit, the full year warranty, and the excellent customer support, it's worth it.
Verdict
The Aeroblend Airbrush Makeup PRO Starter Kit can make any makeup artist happy. It has everything you'll need and it achieves a flawless finish while taking care of your skin. It's also proudly made in the USA. This kit gets a straight 5 out of 5.
Final Comparison
If the Aeroblend Airbrush Makeup PRO Starter Kit is a little bit overwhelming for you or you're only using it for yourself, you may want to go with the Aeroblend Airbrush Makeup Personal Starter Kit instead. It's a little under a hundred dollars, but contains either the light, medium, or tan foundation and makeup line.
The personal kit includes 5 foundations, 2 blushes, 1 highlighter, and 1 bronzer, along with the equipment. The price is great even for beginners and you'll get the same excellent support from Aeroblend.
If you are a professional and want to use an airbrush system for your clients, another option is the Dinair Airbrush Makeup 32 pc Makeup Deluxe Kit.
The kit includes a pro mini compressor in champagne, 1 cleaner, 1 deep cleaner, 9 foundations from fair to dark, 3 paramedical foundations, 4 blushes, 9 eyeshadows and brow shades, 4 adjuster shades, 1 moisturizer, and stencil sets.
If you're a professional and making a business out of airbrushing, this is a good option for you as Dinair is a trusted brand and one of the leaders in the industry.