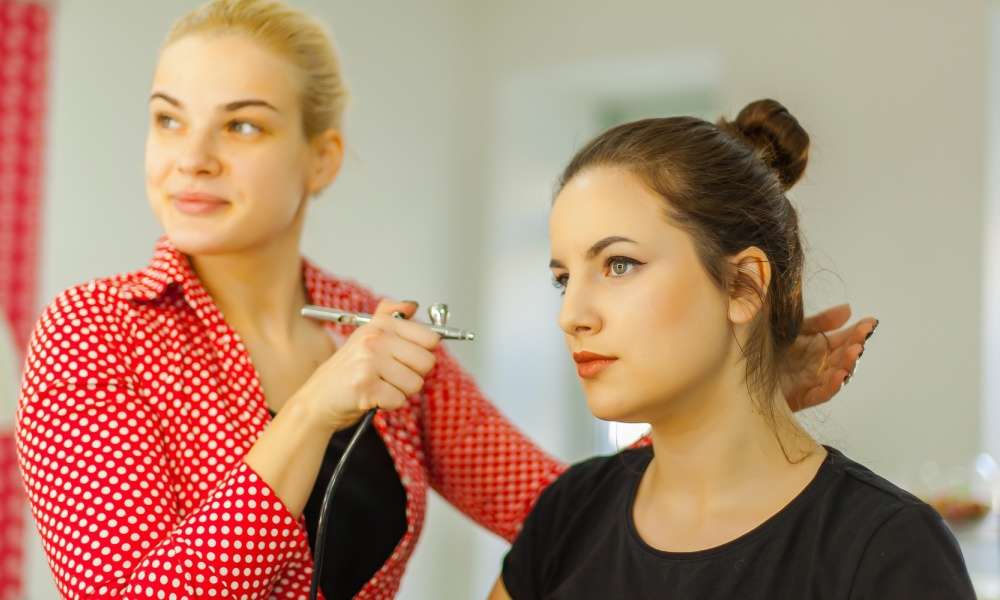 Mastering the technique of airbrush makeup starts with practicing on yourself. If you love makeup and want to learn airbrushing, the Aeroblend Airbrush Makeup Personal Starter Kit is a great way to do that. This is a review for the light foundation variety which is perfect for those with light skin tones.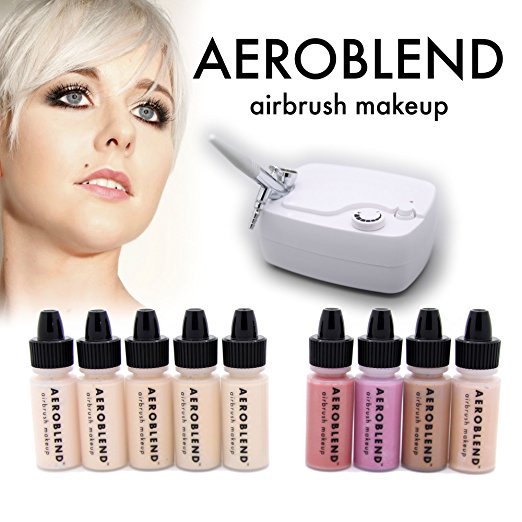 Features
Includes ultra-quiet compressor with 110V AC plug
Double action airbrush stylus for controlled airbrushing
5 Aeroblend foundations in the light shade
2 Aeroblend blushes
1 Aeroblend highlighter
1 Aeroblend bronzer
Air hose included
Directions and customer support included in the kit
Water-based makeup with no parabens, fragrances, or silicones
Lasts up to 10 hours
Achieve HD makeup in mere minutes
Pros
If you like airbrushing but can't find it in your heart to invest in a professional kit yet, you can always go for the Aeroblend Airbrush Makeup Personal Starter Kit – Light Foundation.
If you are fair or light skinned, this is a great starting kit for you. It includes everything you need from a variety of light foundation shades, two blushes, one bronzer, and one highlighter to complete a natural "no makeup" look.
The makeup from Aeroblend itself is very good. Not only is it beautifully pigmented, but it also contains natural ingredients that help to care for your skin. It includes kaolin, jojoba, and lavender.
It works even on sensitive skin because of its lack of silicone, parabens, petroleum and fragrances. It's also completely made in the USA.
The system is also very good and can speak for itself. The compressor is ultra-quiet so you won't be disturbed by any noise as you are doing your airbrush makeup.
The compressor has a fully adjustable dial for you to control the pressure. What's more, the stylus is a double action airbrush so you get a lot more control, which translates to better makeup application.
It's also an added plus that Aeroblend has a wonderful customer support. The kit is covered with a full one year warranty so you get more than what you pay for.
Cons
The price, while very reasonable, can actually buy you a complete set from another brand. However, Aeroblend is tried and true, tested both for their makeup and their airbrush systems. They also offer a one year warranty, so it's worth every penny you spend.
Unlike a single action airbrush stylus, which is easy to learn, the dual action airbrush stylus can take a while to master. With practice and determination, you'll be able to master the application eventually.
It doesn't include a primer in the set. Since the makeup included is water based, it's hard to use it with silicone based primers you may already have. So, it's best to use a water-based primer and moisturizer before using the makeup, otherwise it will just slide right off.
While the makeup is long lasting, it doesn't last the whole day, unlike silicone-based makeup. If you only need to use the makeup for a few hours in a day, then this will definitely work as it can last up to 10 hours and doesn't transfer onto clothes.
Verdict
It's a pretty good product. You can always trust Aeroblend. If you are fair or light skinned, the Aeroblend Airbrush Makeup Personal Starter Kit – Light Foundation is a great investment. Compared to other brands, the price is reasonable enough. This product gets a 5 out of 5.
Final Comparison
If budget restricts you to a system that's under a hundred dollars, don't despair. The Photo Finish Professional Airbrush Makeup System Kit – Fair to Medium is another wonderful option. Not only is it more affordable, but it also includes a primer and a finishing powder in the kit.
The makeup itself lasts up to 24 hours. You won't need any touch ups at all if it's applied correctly. It is oil-free and is mineral-based and does not contain any harsh preservatives that can be harmful for your skin. The learning curve is also not too high as it uses a single action airbrush stylus.
If you have a darker skin tone, you'll like the Dinair Airbrush Pro Makeup Kit – Dark Shades. However, the price is a hundred dollars more. If budget is not a problem, then this is definitely a good choice.
The set includes the Pro Dinair CX Beauty Airbrush, compressor, 4 dark shades foundation, 6 multipurpose shades, an airbrush cleaner, and a makeup travel case. You get free gifts with the purchase as well, including a stencil set, moisturizer, corrective concealer sample and a whole lot more. So even though it is expensive, you get a lot of stuff in your kit compared to other brands.
It's also harder to find dark shades in other brands compared to what Dinair has to offer. Unlike the Aeroblend Airbrush Makeup Personal Starter Kit, this particular Dinair set is a professional one, so it's advisable to learn about the technique first before getting this one, unless you're already a professional.